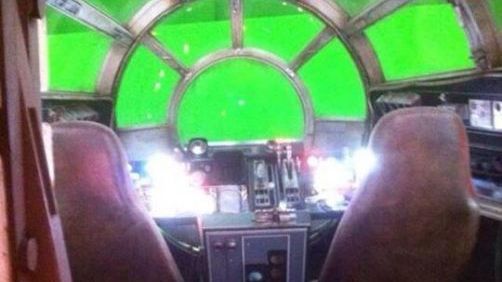 B. Alan Orange — MovieWeb
More set photos have leaked from Star Wars: Episode VII, which is continuing to shoot in London at Shepperton's Pinewood Studios under the direction of J.J. Abrams. This time, we're taken inside the iconic Millennium Falcon, which looks no different than it first appeared in Star Wars: Episode IV - A New Hope. Get your first look from inside the Cockpit, where Han Solo and Chewbacca will pilot this legendary spacecraft that made the Kessel Run in less than twelve parsecs. We also get to see what is either the hallway inside the ship itself, or the hallway of another spacecraft.
These are the sorts of leaks I can live with — great fun and no plot spoilers. And yep, it certainly does look like our believed ship. I would have been quite sad if it looked different.
LEAKED 'STAR WARS: EPISODE VII' set images gives us a look inside the Millennium Falcon! #HYPE! pic.twitter.com/Xnz8gv416s

— Superhero Report (@SuperheroReport) August 12, 2014
A reported corridor on the Millennium Falcon #StarWarsRebels pic.twitter.com/RApc8WM3ZQ

— Star Wars Rumours (@SWRumours) August 12, 2014