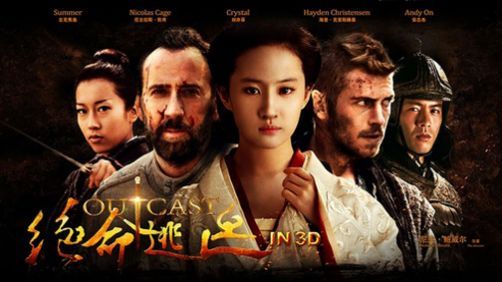 After watching this trailer I don't really have a good idea of what the plot is about. But I'm pretty sure I can tell you this film is going to be overwrought, over-acted, poorly acted, and it's going to feature a pretty bad accent by Nicolas Cage (that's when you can understand him and he's not mumbling).
Oh, I also dare you to try to make sense of this official synposis:
Princess Lian and her younger brother, Zhao, flee for their lives when their father, the Emperor, is murdered by his ambitious eldest son Shing. Pursued by Shing's black guards, the royal runaways find protection in the form of Arken, a hardened knight seeking redemption from the traumatic nightmares of the Crusades as he searches for his former friend and mentor, Gallain, now a notorious bandit on the silk road. Their gruelling journey sees an unlikely romance bloom between the refined princess and the gruff warrior and Zhao learns the true meaning of leadership from this western warrior. Setting aside their differences, Aarken and Gallain once again fight side by side in an epic and unwinnable battle against Shing and his forces - only this time they are fighting for something they both believe in.
That's just scary bad. Still, I think I'd rather watch Nicolas Cage in this than Left Behind.