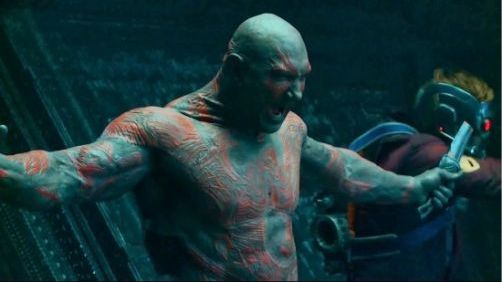 Angie Han — /Film
Wrestling news site PW Mania reports that Bautista (a pro wrestler, in case you've forgotten) is currently "restructuring" his deal with Marvel Studios following the runaway success of Guardians of the Galaxy. The updated contract includes an appearance in 2017′s Guardians of the Galaxy 2, naturally, but also a "significant" part in The Avengers 3.

Although this summer's Guardians of the Galaxy had virtually no crossover with any of the other MCU films, fans have long assumed that the Guardians and the Avengers would meet at some point down the line. Director James Gunn has even confirmed that theGuardians storyline was "definitely connected" to the plot of Avengers 3.
Definitely like the idea of them meeting up for Avengers 3. I was happy that they didn't force some sort of big connection with the MCU in Guardians, but it is in the MCU and it will be fun to see how they bring them together to deal with the big hype up of the infinity stones that we keep hearing about. And of course, Thanos. I'm looking forward to it.