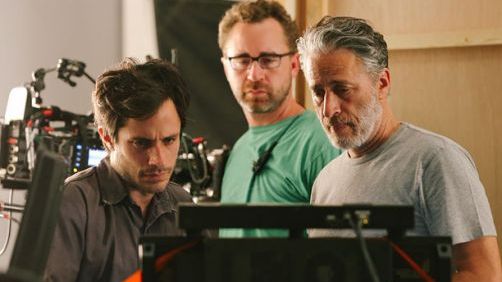 Jeff Labrecque
For Jon Stewart, last night's screening of his directorial debut, Rosewater, was a glorious homecoming of sorts. After all, he filmed Death to Smoochy in Toronto. But last night's standing-room-only showing at the Toronto Film Festival was a true celebration, and before the screening, Stewart joked that Canada's earnest warm reception felt like sarcasm to a cynical New Yorker like himself. Afterwards, the audience responded with a standing ovation, as much for the real Iranian journalist Maziar Bahari, who was imprisoned and accused of being a spy by Iranian authorities, as the cast and their first-time director.
Man, I can't wait to see this film. I'm extremely curious about what kind of a film known comidean Jon Stewart can make out of this material.
The Daily Show host took three months off from his day job last summer to direct Bahari's story, which had strangely pulled Stewart into its orbit because the Iranians used footage of Bahari's appearance on The Daily Show as serious evidence of his espionage activities. Of course, the Iranians now also accuse Stewart of being a "CIA Zionist spy," adding another surreal layer to the ridiculousness.
Hahahahahahahah! Stewart! A Zionist spy?!? What a laugh.
We were in the middle of talking about extending [my contract with Comedy Central] and things like that. And I said to them that there was this one thing that I really wanted to do, and that I felt like I couldn't go in [and extend] if I, you know—I just had to do it. Obviously, it was a negotiation, as it were. They wanted me to do the film in one week, and I thought maybe I could have a couple more. It was a back and forth. Ultimately, for them to give me the opportunity to do it was very gracious, so I certainly appreciated it.
Like I said, I really want to see this film.