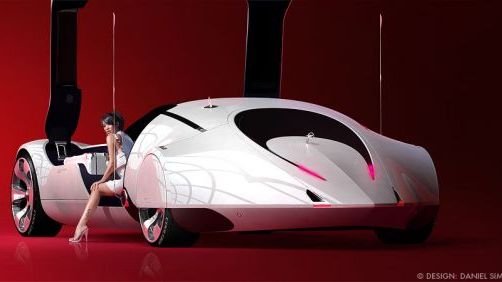 ComingSoon.net
Warner Bros. has set Machete Kills screenwriter Kyle Ward on their upcoming Michael Bay-produced adaptation of concept artist Daniel Simon's book Cosmic Motors. The book, subtitled "spaceships, cars and pilots of another galaxy," is described on Simon's official site as follows:

Come explore the vehicle designs of a far away galaxy called Galaxion where futuristic concepts exist in everyday life. Nine different spaceships, pods, race cars, giant trains, warships and balloons from various planets of the Galaxion system are shown from concept to completion. Daniel Simon is an established senior car designer who has spent the last several years focusing his talents on futuristic concepts for such automakers as Bugatti and Lamborghini. In his first book, Cosmic Motors, each chapter shows the design process of a unique vehicle, from the first ideation sketches to the stunningly detailed 3-D models to the final photo-realistic full spread renderings.
I posted this purely for the comedic value of the headline. The writer of Machete Kills is teaming up with Michael Bay. What is the math for garbage times extra stupid? I'm sure the word would not be repeatable on MovieByte.