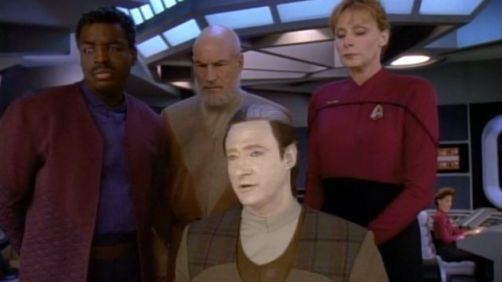 It's that time again: time for me to write up a post about the latest addition to Star Trek remastered. But this time, it's the final season of my favorite overall Star Trek series. The remastering of The Next Generation will now be complete. And as usual, there will also be a stand-alone release. It became quite a common thing to have two parters throughout TNG's run, and often, they make great feature length "films". I really loved the trend for two parters — it foreshadowed what was to come in DS9, with full season and even show arcs. While we (regrettably) never got season arcs with TNG, I'm grateful for what we had. It was a wonderful show, and the remastering of such a great show is wonderful.
I would not rate season 7 as my favorite or anything like that, but there are several good episodes available here:
That is, as in other seasons, an overwhelming number of fantastic episodes when you think about it. And that's not necesarily all the decent ones. I've only listed the episodes that I thought were grand slams. How many other shows have so many great episodes in a season, particularly a later season?
Check out the trailer for the full remastered season.
In addition, there is a trailer for the series finale in feature length format. The finale is, in my opinion, one of the finest finales of any TV series and I can't wait to see it in HD! Here is the trailer for that as well.