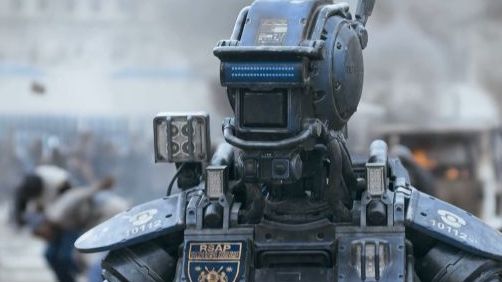 Chappie will mark Neill Blomkamp's third outing to the big screen. Given what's come before, I'm not so sure I can get too excited about this film. I know it's sacrilegious, but I was just not that impressed with District 9, and Elysium was just a complete and utter train wreck. Again, I'm probably treading on thin ice here with many of you (hey Fizz), but I find very little to like about the man's filmmaking style, his approach to story-telling, and his cinematographic instincts. It's just not my style. But I know a lot of people love those things about Blomkamp. Our differences is what makes the world go 'round, eh?
In any event, this is the trailer for Chappie, which appears to be about a robot with real human emotions and feelings. I'm going to call this a mix of many things thrown together — including some of Blomkamp's own previous work. It borrows some ideas from District 9, but also looks to follow some basic sci-fi conventions about robots with humanity.
The film comes to theaters on March 6, 2015.