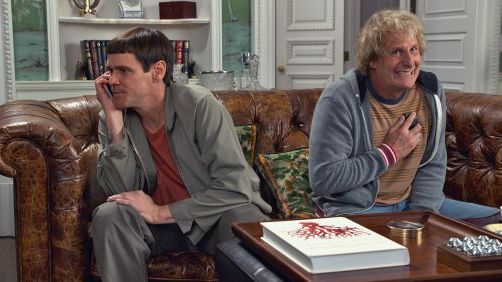 Rodrigo Perez — The Playlist
Despite reuniting Jim Carrey, Jeff Daniels and directors Peter and Bobby Farrelly twenty years after the fact, Universal's "Dumb & Dumber To" took the weekend slot with an impressive $38 million; much higher than most original estimates that pegged the film for around a $25 million opening. And the number is a huge increase from the $16.3 million "Dumber & Dumber" grossed its opening weekend in 1994 (adjusted for inflation that's about $31 million). Impressively, 47% of the audience was under the age of 25, which was a surprise since many thought this was a comedy that skewed much older to the nostalgics (which is probably why it was underestimated in the first place). Will this mean Paramount will dust off the long-delayed "Zoolander 2" sequel? Or are they still cautious after the middling performance of "Anchorman 2"? Time will tell if nostalgic comedy sequels are still in vogue and if 'To' has legs.
Whatever faith I may have had in humanity has plummeted to a new low. At least, reading on through Perez's article, Big Hero 6 had another good weekend. Such a great film.