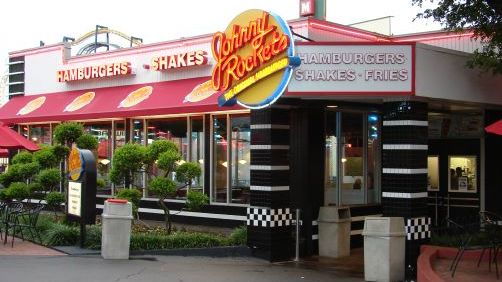 Angie Han — /Film
Johnny Rockets, a chain restaurant whose specialty is heaping nostalgia with a side of burgers, wants you to watch movies like it's 1959. The company has announced a partnership with USA Drive-ins to open Johnny Rockets drive-throughs with their drive-ins.

BusinessWeek reports USA Drive-ins plans to open 200 drive-in theaters by 2018, many of which will have an accompanying Johnny Rockets drive-through. Moviegoers will be able to either walk up to the counter to get their food, or have it delivered to them in their cars. ("No carhops on roller skates, though," notes BusinessWeek.) Each showing is expected to bring in 500 to 700 cars, totaling about 1,200 to 2,000 moviegoers.

At the height of the drive-in's popularity in the late 1950s, there were about 4,000 theaters nationwide. Today, only about 300 remain. Some of that decline can be attributed to changes in technology such as the rise of the VCR, or simply to changing tastes. But there's also the fact that drive-ins are seasonal by nature. They can't do showings when it's still light out, or when the weather is bad. At the same time, they take up a lot of space, so they can get pretty pricey to run.
I love Johnny Rockets — like, a lot — but I don't know about this. We had a drive-in close by when I was a kid and my parents took me a few times. My memory is that the experience wasn't amazing. The sound was not great — they had the little things you could hang on window or you could tune in on the radion station, which was always a bit fuzzy — and the picture quality left a lot to be desired.
More recently, a couple years ago I saw a film at our local drive-in in a town near where I live and the experience was AWFUL! There is a reason drive-ins went away.
But, maybe I can stop being a curmudgeon long enough to experience the nostalgia. As I say, I'm a fan of the Johnny Rockets restaurant chain.