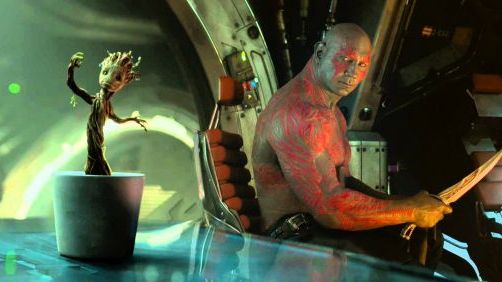 TOR.com
Want yet another way to watch Guardians of the Galaxy? Last night co-writer/director James Gunn popped onto Facebook (accompanied by Sean Gunn, Michael Rooker, and Stephane Ceretti, the VFX supervisor for Marvel) and held a communal screening! As he watched the film, he typed up a real-time commentary track and answered questions from fans. This Q&A format allowed Gunn to delve into a few aspects of the film, including a troubling moment between Drax and Gamora, and we got some insights into Rocket and Groot's relationship!
There's a lot of interesting information here you will enjoy reading through, though here is the most interesting part:
[SPOILERS]
James Gunn: "Well, who says baby Groot is Groot and not Groot's son. He might be dead."

WHAT. OK, we're going to assume that Gunn just left Facebook open when he left the room, and Thanos came in and typed that as a cruel joke. That's…that's what this is.
wut
Seriously, no. Just, no. If this is the case I quit. I can't take it.