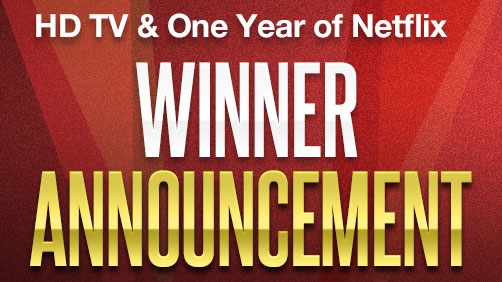 Throughout the months of November and December, we ran a giveaway where you could sign up to be entered into a drawing to win an HD TV and a one year subscription to Netflix.
Last night, we announced the winner live on The MovieByte Podcast Episode 26. That's the special sort of privilege you get when you listen live!
And now we have just released the episode to the masses. If you are subscribed in iTunes, Instacast, or any other feed reader/podcatcher, it is now available (refresh your feeds!). It is also available as always right here on the site at MovieByte.com/mbpodcast/26.
And now it's time to announce the winner here on the site.
The winner is:


Congrats, Terry Smith. You have won a fine prize. Keep tuning in to MovieByte for more cool stuff!
And to all, thanks for entering and supporting MovieByte. It means a lot to us.
Terry, we'll be getting in touch with you right away, but you can also go ahead and send us an email to let us know your address and other details we will need to get you your prize! Just send it to:
info at moviebyte.com
Congrats again!