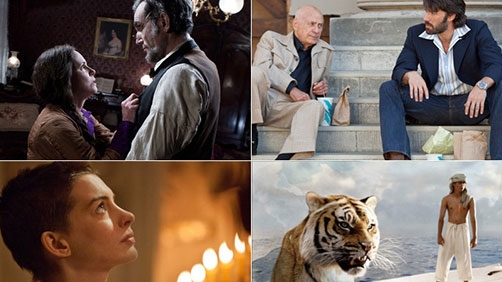 The Playlist - Indiewire.com
And Tarantino is on "Best Director" list.
This week is so awards-heavy that the British Academy Of Film And Television Arts (or BAFTA, to their mum) had to squeeze their announcement in at 7.30 GMT, a time when it's dark in the U.K, New York and Los Angeles. And while BAFTA can often back British fare over the films that have otherwise dominated the awards conversation, this year saw them stick fairly closely to the awards narrative in general, with "Skyfall," "Best Exotic Marigold Hotel" and "Anna Karenina" all failing to sweep the board in the way that some had suggested (though all made the 'Best British Film' nominees).

"Lincoln" leads the field with ten, with "Les Miserables" and "Life of Pi" just behind with nine (though if you include Suraj Sharma's nod in the voted-for-by-the-public Rising Star Award, it takes the latter up to ten). Interestingly enough, of the three, only Ang Lee got a Best Director nomination, with the DGA-nominated Tom Hooper and Steven Spielberg falling out, and Quentin Tarantino and Michael Haneke stepping in for "Django Unchained" and "Amour" respectively, and both helmers also picking up script nominations.
I'm not a big fan of following awards and nominations and all that jazz, I like what I like, and I don't like what I don't like. But I do like to keep a general tab on things here and there.
Anyway, here is the scoop for what it's worth.