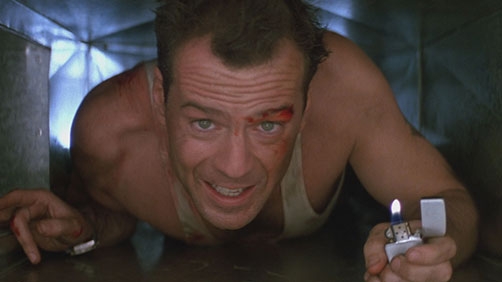 /Film
The Die Hard films are known for a couple things, but one of the prime characteristics of the first three films was the foul mouth of hero John McClane. The guy can't go three scenes without dropping a few f-bombs. Until the fourth film, Live Free or Die Hard, that is. That one came in with a PG-13 rating, and the necessary change in language was one reason the film didn't feel much like a Die Hard movie. Bruce Willis was in it, but he was playing some guy other than John McClane.

Now we've got a reliable source that says the fifth picture, February's A Good Day to Die Hard, is likely to land an R, and that Fox is OK with it. We don't have the rating rundown from the MPAA yet, and so I can't say that language is a big part of the rating. But here's hoping that Fox knows the film is likely to do better in the long run as an R, and is ready to run with it.
As much as I enjoy all the Die Hard films, the PG-13 and lack of a significant amount of language was a bit of a relief to me actually, but maybe I'm in the minority. There is no doubt that the character John McClane is a bit of a foul mouth.