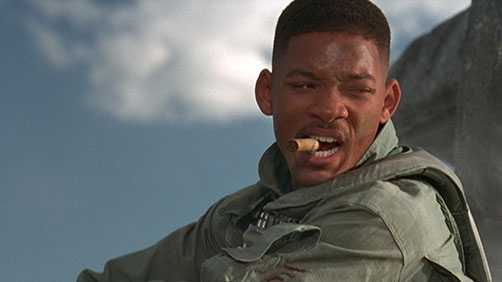 The Playlist - Indiewire.com
We're nine days into 2013, so might as well put in the annual "Independence Day" sequel rumors. For the past few years, a followup to the blockbuster July 4th hit has been talked about, without anything concrete ever actually happening. Roland Emmerich has long said he would be game, but the sticking point seems to be Will Smith, who Fox apparently wants to sign off on everything before shooting begins, so that the production fiasco that accompanied "Men In Black 3" doesn't replicate here. But what if Big Willie doesn't want to do it? No problem.

Crave recently caught up with Bill Pullman, aka President Thomas J. Whitmore, who is currently doing rounds for his new White House role in the NBC comedy "1600 Penn." And according to the actor—who confirmed there's a role for him in the followup—there may be a plan in place should the filmmakers be unable to secure Jaden Smith's Dad.
I don't know about you, but I did not need a sequel to Independence Day. I wasn't super crazy about the film anyway, a sequel just isn't called for.