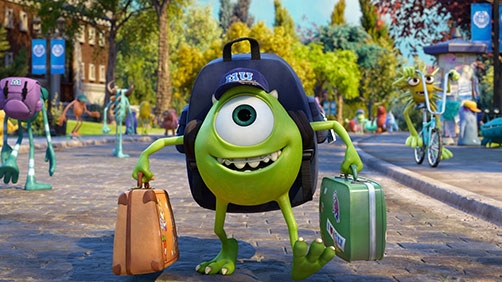 Pixar is so good at this stuff. In this sequel to Monsters Inc. the kiddos are going to college to learn how to square children and such. It's a fun concept, and provides the really fun opportunity for ads like this.
I always think back to the awesome marketing for Toy Story 3, such as the Google Search Ad. It's really great marketing, and though completely different in some ways, this ad for Monsters University is similar in that it's not directly advertising the upcoming film, but it sure is getting you fired up for it.
Mike Wazowski and James P. Sullivan are an inseparable pair, but that wasn't always the case. From the moment these two mismatched monsters met they couldn't stand each other. Monsters University unlocks the door to how Mike and Sulley overcame their differences and became the best of friends. Screaming with laughter and fun, Monsters University stars the vocal talents of Billy Crystal, John Goodman, Steve Buscemi, Dave Foley, Julia Sweeney, Joel Murray and Peter Sohn and is directed by Dan Scanlon and produced by Kori Rae.