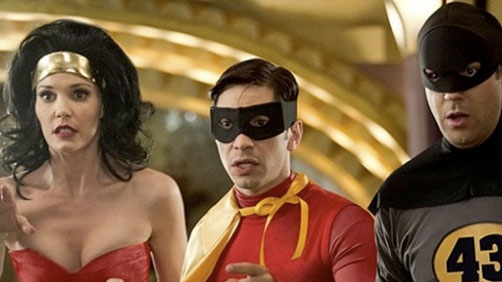 Film.com
"Movie 43″ is a debacle of the highest order, featuring four total laughs and two decent sketches amongst its entire 85-minute runtime. Looking at the fractions of 4/85 and then factoring in the two decent bits sprinkled in during 15 total shorts, one could come to the conclusion that this was a tax write-off scheme. There's simply no way they should have spent more than $30 bucks making this, it didn't have any writing! Or jokes! Or acting! Watching it, you can't help but channel Colonel Jessep from "A Few Good Men" a la "Please tell me there's more, please tell me you haven't pinned your entire film on site gags and poop humor."
Pretty much what I was expecting. But what is truly amazing about this film is this:
Here are the people who were in the film, think of all the better things they could have been doing instead: Elizabeth Banks, Kristen Bell, Halle Berry, Kate Bosworth, Katrina Bowden, Gerard Butler, Common, Josh Duhamel, Anna Faris, Richard Gere, John Hodgman, Terrence Howard, Hugh Jackman, Greg Kinnear, Johnny Knoxville, Justin Long, Seth MacFarlane, Jack McBrayer, Stephen Merchant, Christopher Mintz-Plasse, Chloe Moretz, Nicole 'Snooki' Polizzi, Chris Pratt, Dennis Quaid, Jason Sudeikis, Uma Thurman, Liv Schreiber, Seann William Scott, Emma Stone, Kate Winslet, and Naomi Watts.

Stunning, no? That's the largest ensemble cast ever assembled, all that talent and time completely wasted on an utter catastrophe. Want one final nail in the coffin? Actual funny persons Trey Parker and Matt Stone were initially supposed to direct one of the shorts here, but it never happened, most likely because they read the script and realized they were dealing with imbeciles.
Yeah… how this film got made, and with these people is a mystery to me. It's the strangest ensemble ever.