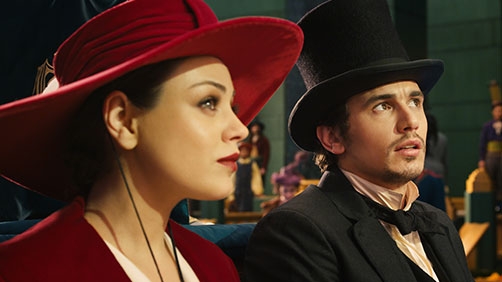 /Film
Sam Raimi's new prequel to The Wizard of Oz opens in a couple months, and to complement the most recent TV spots and trailer, we've got some new high-res photos that show off the characters played by James Franco, Michelle Williams, and others.

Oz: The Great and Powerful follows a magician (Franco) whose escape from a small town con game turns into a path to a new world, as he pilots a balloon that is blown off course into Oz. There he meets a trio of witches (Williams, Mila Kunis, and Rachel Weisz) and a few odd characters such as the monkey Finley (voiced by Zach Braff) and China Girl (voiced by Joey King).
Normally image galleries bore me and so I don't usually link to them. But I'm really liking the look of this upcoming film. Something about the look of these images is drawing me in. It looks very saturated, colorful, and beautiful.
Here is but one sample, click through for more.