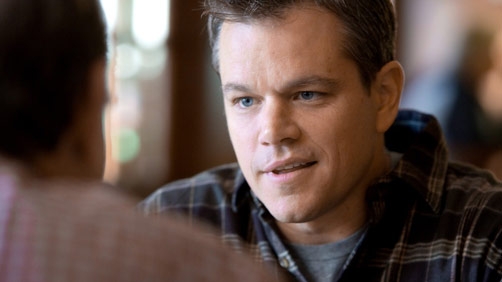 Promised Land was swept under the enormous blockbusters' success of December, so little has been said about the film starring Matt Damon, Frances McDormand, and John Krasinski. For a simple drama set in the heartland of America, one that was written by the dynamic talents of Gus Van Sant and Damon, it seems the film would have met bigger acclaim for its themes and entertainment value. Or at least, the film should have lived up to someone's expectations (films usually do). Why are audiences and critics bashing Promised Land?
TJ and I are reviewing the movie this week on The MovieByte Podcast. In light of the intriguing nature of Matt's film, I thought this short interview with Matt helps to explain the themes of the film from his own perspective:
Thought-provoking exerts from AMC's interview:
This movie is an American story of a real problem that we have ongoing. Do you feel a great sense of responsibility to tell those kinds of stories to get people's minds thinking? To potentially create change one way or the other?
"I certainly feel a responsibility to make an entertaining movie — to not bore the **** out of people. That's important particularly when you are dealing with a more serious subject matter. You want people to go and see it and enjoy it. But I think that it is always an expression of what you are thinking of at the time. And this idea of where we are as a country is something I think about all the time. It's the books that I'm reading, the music that I'm listening to… It's usually by people that are thinking the same kinds of things."
What do you hope audiences walk away with after they see this film?
"Well, hopefully it just starts a conversation about civic engagement about this issue and other issues like it — how we make our decisions. Ultimately, the message of the movie is a very pro community, pro democracy type message. So hopefully that resonates with people."
If you are in the dark about the films story, here's a helpful synopsis from the studio:
Promised Land is the new contemporary drama directed by Gus Van Sant (Good Will Hunting, Milk). Matt Damon plays Steve Butler, an ace corporate salesman who is sent along with his partner, Sue Thomason (Frances McDormand), to close a key rural town in his company's expansion plans. With the town having been hit hard by the economic decline of recent years, the two outsiders see the local citizens as likely to accept their company's offer, for drilling rights to their properties, as much-needed relief. What seems like an easy job for the duo becomes complicated by the objection of a respected schoolteacher (Hal Holbrook) with support from a grassroots campaign led by another man (John Krasinski), as well as the interest of a local woman (Rosemarie DeWitt). Promised Land explores America at the crossroads where big business and the strength of small-town community converge.
I already have half of my review written for Promised Land. I can't wait to discuss this film more, as it's more than just an entertaining film. It hits some of the touchier economic issues for Americans. I believe, whatever you think the film's entertainment value is aside, Promised Land comes the closest of any film to addressing cultural rifts harming the heartland of our nation. I didn't think the subject of fracking could be this interesting, but Promised Land proved me wrong.
Be sure to tune into our podcast discussion of Promised Land this Wednesday night 7:30 EST right here on MovieByte.