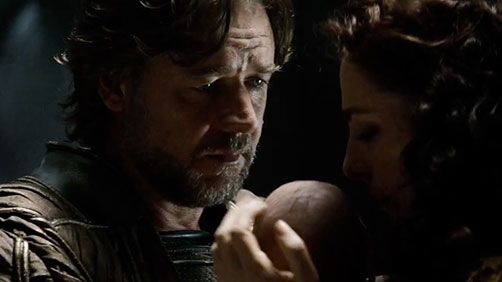 I care more about this for the Man of Steel info than Broken City, but at the same time, I'll be seeing Broken City so it's interesting too.
But there's a lot we just don't know about Man of Steel yet. That's to be expected with Christopher Nolan involved I suppose. I mean even the trailers so far have not given us a lot of actual substance. And we certainly don't know a lot about Krypton and Russell Crowe's Jor-El in this film yet. This will mark the first time on the big screen an actor besides Marlon Brando has played Superman's papa. Even in Superman Returns, they pulled out some footage of Brando from the original film.
The video of the interview with Crowe is below, but here are some quotes:
[Man of Steel is] a massive undertaking. It takes you on the ground to Krypton, it takes you to a planet where the sun is four times larger than ours and you get to experience that stuff and if you've seen the trailers you realize that this Superman is not just floating through the air held up by a wire, this Superman is super sonic.
And explaining the modern sensibilities of the upcoming film:
It's very complicated, it's really complex. I don't think anybody has really tried to get into the psychology of what it must be like to be Superman and what people would really respond like in a modern society if somebody like that just popped up.
Man of Steel comes to theaters June 14, and I guarantee you I'll be there!