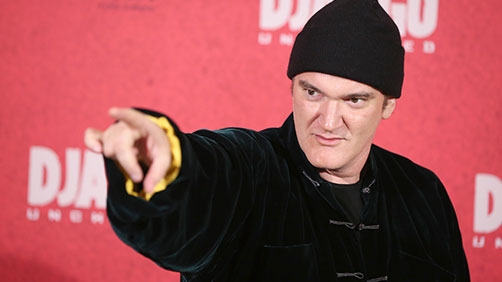 Movieline
Quentin Tarantino probably had a vastly different idea of how the months leading up to the 85th Academy Awards would transpire for him. As he began to promote Django Unchained, he no doubt expected to spend the majority of Awards Season talking about America's legacy of slavery, about his decision to portray it as unambiguously horrific, and how the peculiar institution has historically been treated in film.
No doubt.
In the interview, which I'll embed below, Tarantino pretty much blew up, and the interviewer kept trying to come back to it, kept trying to get him to say something about it. One attempt by the interviewer would have been fine. But he kept pushing and pushing and pushing. He was just a really bad interviewer. At some point it's time to move on.
But the reality is, if I were Tarantino, and I had made a film like Django where the violence served a purpose to tell a larger story about the realities of slavery in America in that time period, and everyone was missing the forest for the trees, I would be extremely annoyed as well. I would be sick of the questions. I would be sick of the media and the sheeple of the U.S. blame shifting what happened to my film, or films like it because of a horrible, and mentally unstable man.
But I don't think blowing up helps Tarantino at all. Even though I completely agree with his point of view, I thought he came off as a bit of a big baby. There are ways to turn the conversation back to the topics they need to be focused on, and he sort of blew it. It's unfortunate really.