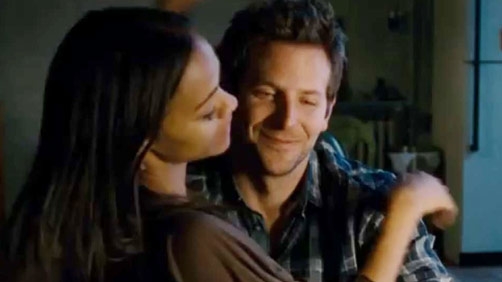 Rory Jansen (played by Bradley Cooper) is a writer who has it all: a loving wife (played by Zoe Saldana), critical acclaim by the bucket-loads, and a best-selling novel.
Problem is, he didn't write it.
Now, in the aftermath of his success, the young author's theft returns to haunt him. Secrets he thought were safe come to light. "There's more than one way to take a life," we're told, and the truth of that statement hits Rory like a freight train. His sin has found him out.
An Underwhelming Acheivement
If you're intrigued by this story, I don't blame you. It intrigued me, too. The premise has a lot going for it; throw in an A-list cast (including the venerable Jeremy Irons) and it sounds like a recipe for success. Besides, who doesn't like a cleverly constructed literary thriller?
There's just one problem (no, three problems): The Words isn't clever. Nor is it thrilling. And its literary merit? Well, that's questionable in the extreme. The Words is a dimestore novel masquerading as sophisticated literature — a cheap, tepid, pretentious mess that tries to hide its lack of substance behind an overly complex narrative structure.
Not as Smart as it Pretends to be
The Words is a story… within a story… within a story. Like Inception, minus the grace and intelligence. The film wants to make a point about the dangers of building one's life on fraud and deception, but any impact such a message might potentially have is dampened by the convoluted story arc. A straightforward approach would have been much more effective.
Unless, of course, you have nothing to say. In which case, bewildering the audience is the closest shot you've got at being appreciated. This is the Don Marquis strategy, grounded firmly in the notion that, "If you make people think they're thinking, they'll love you." The film brushes lightly over several promising ideas: the blurring of truth and fiction, the gap between talent and aspiration… but its reluctance to explore any one of them at a deeper level is frustrating.
Equally frustrating is the lack of subtlety. There is no nuance to this tale: only sledgehammering melodrama and copious amounts of narration. I could practically feel my heartstrings getting ripped out of my chest. Spelling out the obvious is one thing this film does with shameless ease.
Nitwit
Shawn Levy's summary of The Words is the best I've yet encountered: 
The Words, for all its complexity, has little to offer in the way of serious food for thought. It can't even tell a good story — much less use the story to ask probing questions. By the end of the movie, the only question I was asking was "why didn't I just read a book instead?" The Words is a nitwit story about a nitwit author who has written a nitwit novel about a nitwit author who has published a nitwit novel which, in fact, he has stolen wholecloth from another writer whose personal behavior, as fictionalized in the novel-within-the-novel-within-the-film, can charitably be described as… nitwit.
That might sound harsh, but it's true. The Words, for all its complexity, has little to offer in the way of serious food for thought. It can't even tell a good story — much less use the story to ask probing questions. By the end of the movie, the only question I was asking was, "Why didn't I just read a book instead?"