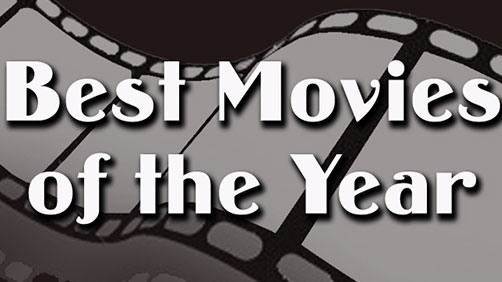 Happy New Year! It seems to be a bit of a slow news morning. Maybe some more news and links will show up later today, but since I have to drive ten hours back home from visiting relatives today, I'm going to be unavailable if stuff turns up. And Joseph, well he's still out partying up the new year or something so it's up to me to give you guys something.
I thought it would be fun to round up my top ten films from 2012. Though in my various reviews perhaps I may have rated one or two films more highly than what I list here, I think these are the films worthy of mentioning for 2012. I hope I haven't missed anything, these sorts of lists are hard to compile.
10: Lincoln
Though the historical revisionism of this film annoyed me, the production value, direction, and acting were off the charts good! It's worth seeing, and even despite the revisionism, I was surprised at some of the things I did feel they portrayed accurately. Joseph wrote the official MovieByte review, and though he rated it a little more highly than I might have, it's a fair review.
09: Les Misérables
Man this list is hard, and I'm not at all sure I have this film in the right position on the list. Despite people complaining that 2012 was not a great movie year, I'm finding it hard to sort through the great films we had. Les Misérables is a masterpiece and even though I am not especially fond of musicals even I can see that. Though the worst performance by far was (surprisingly) from Russel Crowe, even so the acting in this film is phenomenal! And of course the story is amazing.
We have not posted a review of this film yet, and I am not yet sure when that will happen, but we will be talking about it on The MovieByte Podcast tomorrow night at 6:30 PM Central Time. Be sure to tune in live or catch it when it's posted the following day.

08: Skyfall
This was a great Bond film, indeed it was a great film period. I particularly enjoyed the more old school approach to the cinematography and the characterization. Though ultimately I was a bit disappointed with the villain, the film is well worth mentioning and remembering in connection with 2012.
07: Wreck-it Ralph
I really hate that this film is this far down on the list because it's a really great film. Again, it's a testament to how many great films we had in 2012. This film was a real gem and if I didn't know better I would have said that it was made by the folks at Pixar. Well actually, while the film may not have been made by Pixar, it was made by many of the same minds that have been behind the great films at Pixar. This explains a lot. It has all the charm of a Toy Story, or even The Incredibles. It will easily be remembered as one of the greats of 2012.
Joseph's Review of Wreck-it Ralph »

06: Snow White and the Huntsman
A great film about good versus evil, of right and wrong, of leadership, morality, redemption and more. And the film is very artfully filmed and edited, keeping with it's allegorical theme. And the score for this film will be remembered for a long time to come.
My Review of Snow White and the Huntsman »

05: The Hobbit
Peter Jackson's much anticipated film duology trilogy. While perhaps in need of a little fat trimming, nevertheless a very enjoyable trip to Middle Earth. And it is a tale that feels of epic proportions. While I had a couple of complaints (what film doesn't have things to complain about?), I recommend it.
04: Argo
This was one of the bigger surprises to me this year. It seems many others expected it to be a good film. But for me, I was pleasantly surprised. This is a well acted, well written, well directed drama based on a true story. While there were certainly liberties taken with the story, I am given to understand that it is fairly faithful in the essentials, which makes it all the more fun.
03: The Hunger Games
I first read the books and knew that this was something good. And this film did not disappoint for the most part. Though I took some quibbles with the cinematography early in the film, it's not worth dissing the film too much over. This film is an excellent critique of some of the more troubling aspects of our postmodern culture. Ultimately it was a very moving film and worthy of high praise.
My Review of The Hunger Games »

02: The Dark Knight Rises
The long awaited finale to Christopher Nolan's trilogy was good, if a little disappointing. But just a little. The fact of the matter is this Batman film, easily Nolan's worst installment, is far better than much of the garbage put out this year. It is in keeping with Nolan's somewhat darker tone of more gritty realism, and of course involves themes of self sacrifice, very bad and evil villains, and themes of redemption.
My Review of The Dark Knight Rises »

01: The Avengers
If you have been following my work, writing, and opinions at all, this will not be a shock to you. The film I enjoyed the most this year is The Avengers. Joss Whedon's work has been largely overlooked until now. I'm glad to see him getting some recognition now, and for a great installment into the film world too. This story is so well told that it's hard for me to find much fault with it. Indeed, I only really found one thing wrong with the film in my reivew.
---
And that pretty much wraps it up. This is such a subjective thing and I know I have probably missed your favorite(s), or listed a film (or two) that you thought was terrible. Be sure to sound off in the comments and let me know what a horrible person I am!