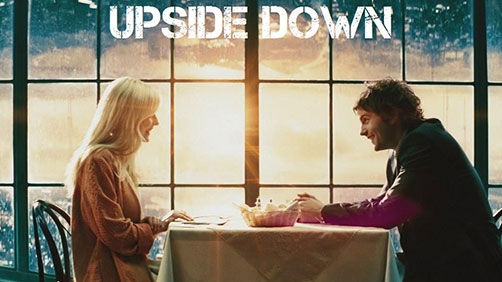 Color me impressed, this is an actual interesting concept that I have never, and probably would never have conceived of. Now, don't think too hard about actual science as you read, look at the images, and watch the trailer, unless I'm mistaken it need not apply here.
And now, observe a screen shot from the trailer.
No, that image has not been flipped upside down, Kirsten Dunst's world has. In Upside Down, Kirsten Dunst and Jim Sturgess star in this sci-fi romance as a pair from two adjacent planets with opposite gravitational pulls who fall in love. But their laws forbid interaction with people of the other planet.
The film is scheduled to premeir on March 15, 2013 according to IMDb.
Kept apart from the girl he has loved his entire life; Adam must fight to reunite with Eden. But the laws of his world as well as the laws of gravity keep him from her. Adam must risk everything to access the forbidden world of affluence that exists literally above him. As he struggles to keep the authorities from discovering him while manipulating the gravitational force that physically pulls him back to his world, Adam faces insurmountable danger in hopes of finding his long-lost love.