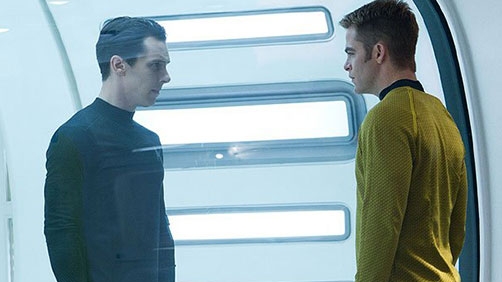 TrekMovie.com
As we reported earlier there are two collectible covers for the new issue of Star Trek Into Darkness. If you go online to the ew.com site to buy the one with Chris Pine and Benedict Cumberbatch, the cover title appears to confirm the true secret identity of Cumberbatch's character (John Harrison). See image below…


Being that the cover story includes exclusive new images and on the record comments from JJ Abrams, Roberto Orci, Alex Kurtzman and many of the actors from the movie is this actual "Khanfirmation." Actally, no.

Here is what is said about Khan in the actual EW cover story written by Geoff Boucher:

Unconfirmed rumors suggest that Harrison also goes by the name of Khan, the genetically upgraded tyrant portrayed by Ricardo Montalban in a February 1967 episode of the original series, as well as in 1982′s big-screen Star Trek II: The Wrath of Khan.
...
While it is true that Benedict Cumberbatch's villain has been identified as Khan by TrekMovie.com (see spoiler article from last year – warning additional spoilers)…as well as other sources, this is still considered officially a rumor as it hasn't been confirmed on the record by anyone related to the film.
Yeah. I was going to post something to this effect myself but then Anthony did it for me with actual information so there you go.
I'll tell you when we will know who the villain is (other than going by the name John Harrison), and that will be after we have all seen the film on opening night. Then we can talk, mkay?