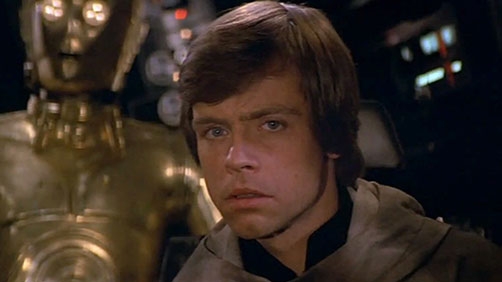 The Playlist
"I'm assuming, because I haven't talked to the writers, that these movies would be about our offspring—like my character would be sort of in the Obi-Wan range [as] an influential character," he told Entertainment Tonight. "When I found out [while making the original trilogy] that ultimate good news/bad news joke – the good news is there's a real attractive, hot girl in the universe; the bad news is she's your sister – I thought, 'Well, I'm going to wind up like Sir Alec [Guinness]. I'm going to be a lonely old hermit living out in some kind of desert igloo with a couple of robots.' "

But the main reason Hamill isn't privy to what screenwriter Michael Arndt, director J.J. Abrams and producerKathleen Kennedy are up to, is for the simple reason that he hasn't yet talked to them nor has he signed any contracts. "They're talking to us. George [Lucas] wanted to know whether we'd be interested," Hamill shared (and remember, he and Carrie Fisher met with Lucas before the sale of Lucasfilm to talk about the sequels). "He did say that if we didn't want to do it, they wouldn't cast another actor in our parts – they would write us out…I can tell you right away that we haven't signed any contracts.
It is kind of surprising to me that they haven't signed Mark or Carrie yet. That tells me that they are at least considering the option of not having them in the film. Interesting.