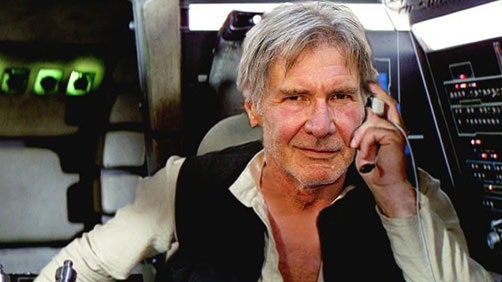 Indiewire — The Playlist
As J.J. Abrams and company endeavor to keep the lid tightly sealed on whatever they're cooking up for "Star Wars: Episode VII," reading between the lines of reports over the past few months, it is starting to emerge that the lineage to the first trilogy of films will be pretty direct. Particularly is this bit of info turns out to be true.

Latino Review is reporting that Harrison Ford is set to return as Han Solo in "Star Wars: Episode VII." Whether it's just a cameo or something more something they don't know just yet, but according to their sources, it's a done deal. Naturally, until Disney says something none of this is real and this could also just be plain bogus, but it fits into the larger narrative of what has been dripping out over the last few months.
It's almost a given at this point, but we follow it eagerly none-the-less. Who doesn't want to see an old Han Solo, leaning on his cane, SHOOTING FIRST! Well, okay, I can see how that might not work out very well but we'll see.