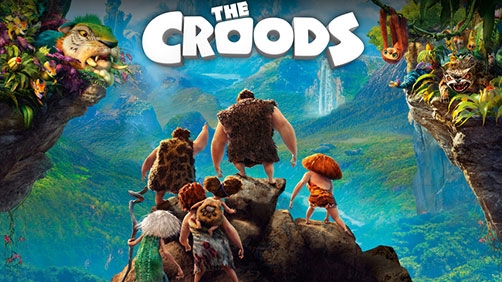 The Croods may have taken home more money, but the ratio of gross to budget was much higher for Olympus has Fallen. Still, they are hard to compare since they are in such different categories.
The Croods
The Croods brought home $44.7 Million this past weekend. I don't know if that's really a surprise given what's at the box office right now. I haven't quite been captured by the marketing of this film but I must admit that it does look funny at least. I don't know if I'll have time to see it in theaters but I'm not completely opposed to the idea. However, at a budget of $135 Million, it better do just as well next weekend to get it at least close to that number. Of course when you factor in the foreign gross, things do look better. Total worldwide gross is $107.3 Million.
Olympus has Fallen
Bringing in a domestic gross of $30.5 Million, Olympus Has Fallen takes the second spot this weekend. This film has not been released internationally (yet?) which is not too surprising since its a very American centric film in it's plot devices. This film was made on a budget of $70 Million, which in my viewing I thought it used quite well. I enjoyed the film and I do wish it had done a little better. Without those foreign numbers to boost it, The Croods does look a bit better in it's ration of budget to gross.
Oz the Great and Powerful
For it's third weekend out, Oz takes the number 3 spot, which isn't too shabby really. The domestic gross is $177.5 Million, with the foreign gross equaling that and bringing the total worldwide gross to $356.4 Million. The budget was $215 Million. I think Disney and Raimi have a winner here.
The Call
Coming in at number 4, The Call continues to surprise. Made on a shoestring budget (well comparatively, come on) of $13 Million, The Call brought in another $8.7 Million this weekend, bringing the total up to $30.9 Million. That's not too shabby. It's too bad the 3rd act of the film is SOOO bad.
As for the rest, well I think it's safe to call Admission, Spring Breakers, and The Incredible Burt Wonderstone flops.