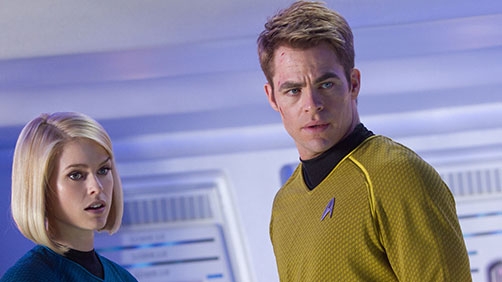 TrekMovie.com
Anthony has the scoop for us.
Another press screening (this time in Brazil) has revealed more secrets for Star Trek Into Darkness. This time there are many new spoiler details revealed including the identity of Peter Weller's character and much more. You can read a summary of the report below but beware there are major spoilers.
Seriously, only click through if you want the super spoilery details. I kind of wish I had not read it. But I do it for you, dear readers!
SPOILER TALK BELOW
SERIOUSLY, YOU HAVE BEEN WARNED.
The business of Kirk getting demoted may help address criticism leveled at the previous film, criticism which I share, that Kirk went from cadet to captain of a ship in a very short amount of time. Even with Kirk's success and defeat of Nero, a promotion would be in order, but not a captaincy methinks. Time enough for that with a little more experience. So while this doesn't fix the fact that Kirk getting command of a ship and skipping over several ranks would never happen ever in a million years, it may still help address the fact that he simply wasn't ready.