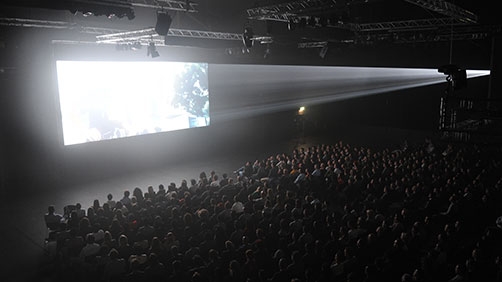 We've got a couple of things coming out in cinemas, and a few things still in the cinemas that you might be interested in seeing. We're slowly but surely getting away from the absolute trash that was in theaters for a couple of dull, dreadful months.
New This Weekend
The Call - R
I plan to see this film tomorrow evening (hopefully). I'm hoping for a decent, film, but probably not a great one. I'm going to venture a guess that this will be a 3 or possibly a 3.5 star rating from me. We'll see.
When veteran 911 operator, Jordan (Halle Berry), takes a life-altering call from a teenage girl (Abigail Breslin) who has just been abducted, she realizes that she must confront a killer from her past in order to save the girl's life. Full synopsis
R | Violence, Some Language and Disturbing Content
Cast: Halle Berry, Abigail Breslin, Morris Chestnut, Michael Eklund, Michael Imperioli
Director: Brad Anderson
Genres: Suspense/Thriller
See or not: I'll venture a See
Halle Berry in 'The Call' - Trailer »
'The Call' Trailer 2 »
---
The Incredible Burt Wonderstone - PG-13
While I'm not exactly looking forward to this film, I doubt it will be completely awful. That said I have no desire to see it really, but probably will as some point.
Superstar magicians Burt Wonderstone (Steve Carell) and his partner, Anton Marvelton (Steve Buscemi), have reigned as kings of the Las Vegas strip for years. Their work rakes in millions of dollars, but the biggest illusion yet is their friendship, for—now—time and familiarity have bred contempt between them. When a street magician's increasing popularity threatens to knock them off their thrones, Burt and Anton recognize that they have to repair the relationship and salvage the act. Full synopsis
PG-13 | Sexual content, dangerous stunts, a drug-related incident and language
Cast: Steve Carell, Steve Buscemi, Olivia Wilde, Jim Carrey, James Gandolfini, Alan Arkin
Director: Don Scardino
Genres: Comedy
See or not: Meh - I'll update my opinion after I've taken the time to see it.
'Burt Wonderstone' Promo »
Apple Trailers Page »
---
Spring Breakers - R
I have no intention of seeing this film. It looks absolutely dreadful and I do not recommend that you see it either.
Brit (Ashley Benson), Faith (Selena Gomez), Candy (Vanessa Hudgens) and Cotty (Rachel Korine) are best friends anxious to cut loose on their own spring break adventure, but they lack sufficient funds. After holding up a restaurant for quick cash, the girls head to the shore for what they discover is the party of a lifetime. They're thrown in jail — and quickly bailed out by Alien (James Franco), a local rapper, drug pusher and arms dealer who lures them into a criminal underbelly that's as lurid as it is liberating for a close-knit gang of girlfriends who are still figuring out their path. Full synopsis
R | Strong sexual content, language, nudity, drug use and violence throughout
Cast: James Franco, Selena Gomez, Vanessa Hudgens, Ashley Benson, Rachel Korine
Director: Harmony Korine
Genres: Comedy
See or not: NOT
---
There are not other new film that I plan to give the time of day. Therefore…
Still in Theaters
Emperor - PG-13
This film looks good. It stars Matthew Fox of Lost and the always great Tommy Lee Jones. Unfortunately for me it does not appear to be a wide release as I cannot find it playing anywhere in the Nashville area, which annoys me to no end. But if it's playing in your area, I'm going to assume it's worth seeing.
A gripping tale of love and honor forged between fierce enemies of war, EMPEROR tells the story, inspired by true events, of the bold and secret moves that won the peace in the shadows of post-war Japan. Starring Academy Award-winner Tommy Lee Jones, Matthew Fox, and newcomer Eriko Hatsune, EMPEROR brings to life the American occupation of Japan in the perilous and unpredictable days just after Emperor Hirohito's World War II surrender. As General Douglas MacArthur (Jones) suddenly finds himself the de facto ruler of a foreign nation, he assigns an expert in Japanese culture - General Bonner Fellers (Fox), to covertly investigate the looming question hanging over the country: should the Japanese Emperor, worshiped by his people but accused of war crimes, be punished or saved?
PG-13 | for violent content, brief strong language and smoking (historical)
Cast: Matthew Fox, Tommy Lee Jones, Eriko Hatsune
Director: Peter Webber
Genres: Drama
See or not: Tenatative See
---
Oz The Great and Powerful - PG
I saw this film last week and it's worth seeing, if not quite as good as I might have hoped. Still, it's loads better than that other Oz film I can't stand (oh Judy Garland…). Of course this is technically a prequel to that part of the story. And it gets just a tad cheesy from time to time, but it was always enjoyable. Joe and I also discussed this film on Episode 35 of The MovieByte Podcast.
When Oscar Diggs (James Franco), a small-time circus magician with dubious ethics, is hurled away from dusty Kansas to the vibrant Land of Oz, he thinks he's hit the jackpot—fame and fortune are his for the taking—that is until he meets three witches, Theodora (Mila Kunis), Evanora (Rachel Weisz) and Glinda (Michelle Williams), who are not convinced he is the great wizard everyone's been expecting. Reluctantly drawn into the epic problems facing the Land of Oz and its inhabitants, Oscar must find out who is good and who is evil before it is too late. Putting his magical arts to use through illusion, ingenuity—and even a bit of wizardry—Oscar transforms himself not only into the great wizard but into a better man as well.
PG | Sequences of action and scary images, and brief mild language
Cast: James Franco, Mila Kunis, Rachel Weisz, Michelle Williams, Zach Braff, Joey King
Director: Sam Raimi
Genres: Action/Adventure, Sci-Fi/Fantasy
See or not: See
The MovieByte Podcast #35 - Monochromatic »
'Oz the Great and Powerful' Trailer 2 »
'Oz' New Year TV Spots »
'Oz' Images Gallery - Linked »
'Oz the Great and Powerful' TV Spot »
'Oz the Great and Powerful' Bubbles and Fireballs (clips) »
---
21 and Over - R
So, I've been seeing the preview for this around — and I would love to have those few minutes of my life back. Seriously, this looks so bad I don't know how anyone could want to see this. Please don't go see it.
Straight-A college student Jeff Chang has always done what he was supposed to do. But when his two best friends Casey and Miller surprise him with a visit for his 21st birthday, Jeff Chang decides to do everything he wants to do for a change, even though his important medical school interview is early the next morning. What was supposed to be one beer becomes a night of humiliation, over indulgence and utter debauchery in this coming-of-drinking-age-comedy, from the writers of 'The Hangover,' about living youth to its fullest.
Rated R for crude and sexual content, pervasive language, some graphic nudity, drugs and drinking
Cast: Miles Teller, Skylar Astin, Justin Chon, Sarah Wright, Jonathan Keltz, François Chau
Directors: Scott Moore, Jon Lucas
Genres: Comedy
See or not: NOT NOT NOT!
---
Identity Thief - R
This is a dreadful film and I don't recommend it. Catch my review.
Florida resident Diana (Melissa McCarthy) has a luxurious lifestyle as the queen of retail, buying whatever strikes her fancy – and it's all free, thanks to Sandy Bigelow Patterson (Jason Bateman), a guy from Denver whose identity she stole. With just one week to track down Diana before his world implodes, the real Sandy heads south to confront the unapologetic con artist and bring her back to Denver so that he can clear his name and restore his shattered credit rating.
Rated R for Sexual Content and Language
Cast: Jason Bateman, Melissa McCarthy, Jon Favreau, Amanda Peet, Tip "T.I." Harris, Génesis Rodríguez
Director: Seth Gordon
See or not: NOT
My Review »
Apple Trailers Page »
---
Dead Man Down - R
I have not seen this, but I am not sure I will like it. It's a revenge tail, people taking justice into their own hands. Probably not my thing.
Niels Arden Oplev, the acclaimed director of the original The Girl with the Dragon Tattoo, makes his American theatrical debut with a provocative new thriller, DEAD MAN DOWN. Colin Farrell and Noomi Rapace star as two strangers, irresistibly drawn to each other, whose mutual desire for revenge unravels in an escalating trail of violence. The film co-stars Academy Award® nominee Terrence Howard and Dominic Cooper, from a screenplay by J.H.Wyman (Fringe).
R | Violence, Language Throughout and A Scene of Sexuality
Cast: Colin Farrell, Noomi Rapace, Terrence Howard, Dominic Cooper, Isabelle Huppert
Director: Niels Arden Oplev
Genres: Suspense/Thriller
See or not: Probably Not
---
Jack the Giant Slayer - PG-13
This is a really good film. I don't know what is wrong with critics and general audiences finding fault with it. Someone, somewhere seems to be stiring up angst against it, and it's now become the hip and cool thing to hate on this film. That's just too bad because it's actually really good. Joe and I talked about it on The MovieByte Podcast #34, be sure to tune in to hear more.
When young farmhand Jack (Nicholas Hoult) unwittingly opens a portal between his realm and a race of giants, it rekindles an ancient war. Roaming Earth for the first time in centuries, the fearsome giants seek to reclaim the land they lost long ago. Jack has to face an army of foes that he thought existed only in legend, but through his arduous fight for the kingdom and its people, he may win the love of a brave princess, perhaps becoming a legend himself.
Rated PG-13 for intense scenes of fantasy action violence, some frightening images and brief language
Cast: Nicholas Hoult, Eleanor Tomlinson, Ewan McGregor, Stanley Tucci, Eddie Marsan
Director: Bryan Singer
Genres: Action/Adventure, Sci-Fi/Fantasy
See or not: Tentative See
The MovieByte Podcast #34 »
Bryan Singer's Jack the Giant Slayer Trailer »
Jack The Giant Slayer Trailer #3 »
Jack the Giant Slayer Clip »
Jack the Giant Slayer - Featurette 1 »
---
Snitch - PG-13
Meh.
In the fast-paced action thriller SNITCH, Dwayne Johnson stars as a father whose teenage son is wrongly accused of a drug distribution crime and is looking at a mandatory minimum prison sentence of 10 years. Desperate and determined to rescue his son at all costs, he makes a deal with the U.S. attorney to work as an undercover informant and infiltrate a drug cartel on a dangerous mission – risking everything, including his family and his own life.
Rated PG-13 for Sequences of Violence and Drug Content
Cast: Dwayne Johnson, Barry Pepper, Jon Bernthal, Susan Sarandon, Michael Kenneth Williams
Director: Ric Roman Waugh
Genres: Suspense/Thriller
See or not: I'm thinking not
---
Safe Haven - PG-13
Looks sappy and stupid to me. But you never know.
An affirming and suspenseful story about a young woman's struggle to love again, Safe Haven is based on the novel from Nicholas Sparks, the best-selling author behind the hit films The Notebook and Dear John. When a mysterious young woman arrives in a small North Carolina town, her reluctance to join the tight knit community raises questions about her past. Slowly, she begins putting down roots, and gains the courage to start a relationship with Alex, a widowed store owner with two young children. But dark secrets intrude on her new life with such terror that she is forced to rediscover the meaning of sacrifice and rely on the power of love in this deeply moving romantic thriller.
Rated PG-13 for Thematic material involving threatening behavior, and for violence and sexuality
Cast: Josh Duhamel, Julianne Hough
Director: Lasse Hallström
See or not: Probably Not
---
Silver Linings Playbook - R
I suppose I'm going to have to see this because everyone is saying it's good — even people I would not have expected to give what I currently know about this film. It doesn't look interesting to me, but I should give it a chance I reckon. Michael and Eric reviewed the film on Episode #3 of Movieology and they seemed to enjoy it.
Life doesn't always go according to plan…Pat Solitano (Bradley Cooper) has lost everything – his house, his job, and his wife. He now finds himself living back with his mother (Jacki Weaver) and father (Robert DeNiro) after spending eight months in a state institution on a plea bargain. Pat is determined to rebuild his life, remain positive and reunite with his wife, despite the challenging circumstances of their separation. All Pat's parents want is for him to get back on his feet - and to share their family's obsession with the Philadelphia Eagles football team. When Pat meets Tiffany (Jennifer Lawrence), a mysterious girl with problems of her own, things get complicated. Tiffany offers to help Pat reconnect with his wife, but only if he'll do something very important for her in return. As their deal plays out, an unexpected bond begins to form between them, and silver linings appear in both of their lives.
Rated R for Some Sexual Content/Nudity and Language

Cast: Bradley Cooper, Jennifer Lawrence, Robert De Niro, Jacki Weaver, Chris Tucker
Director: David O. Russell
See or not: tentative See
Movieology Episode #3: On Health, Home, and Happiness »
Apple Trailers Page »
---
A Good Day to Die Hard - R
Do not bother. If like me, you liked all the previous Die Hard films to some extent or other, you will be majorly disappointed with this installment. It's pretty much a butcher job on the franchise. Catch my review to see just how poorly I thought of this film.
New York City cop John McClane (Bruce Willis) arrives in Moscow to track down his estranged son, Jack (Jai Courtney). McClane thinks his son is a criminal, so it comes as a shock when he learns that Jack is actually working undercover to protect Komarov (Sebastian Koch), a Russian government whistleblower. With their own lives on the line, McClane and Jack must overcome their differences in order to get Komarov to safety and thwart a potentially disastrous crime in the Chernobyl region.
Rated R for Violence and Language
Cast: Bruce Willis, Jai Courtney, Sebastian Koch, Mary Elizabeth Winstead, Yulia Snigir, Rasha Bukvic, Cole Hauser
Director: John Moore
See or not: NOT
My Review »
Trailer #3 »
'A Good Day to Die Hard' Featurette »
---
Dark Skies - PG-13
Meh.
From the producers of Paranormal Activity, Insidious, and Sinister comes Dark Skies: a supernatural thriller that follows a young family living in the suburbs. As husband and wife Daniel and Lacey Barret witness an escalating series of disturbing events involving their family, their safe and peaceful home quickly unravels. When it becomes clear that the Barret family is being targeted by an unimaginably terrifying and deadly force, Daniel and Lacey take matters in their own hands to solve the mystery of what is after their family.
Rated PG-13 for Violence, Language, Drug Content, All Involving Teens, Sexual Material and Terror Throughout
Cast: Keri Russell, Josh Hamilton, Dakota Goyo, Kadan Rockett, J.K. Simmons
Director: Scott Stewart
Genres: Sci-Fi/Fantasy, Suspense/Thriller
See or not: Probably Not
---
Warm Bodies - PG-13
An unfortunately flawed film that I really can't recommend that you waste your money on. There was some good acting in this film, but unfortunately that acting was relegated to minor roles. The lead actors were terribly unconvincing. And the weak plot failed to engage me in any meaningful way. It might be worth watching, but wait for the Blu-ray. Catch my review here. We also talked about it briefly on The MovieByte Podcast.
A funny new twist on a classic love story, WARM BODIES is a poignant tale about the power of human connection. After a zombie epidemic, R (a highly unusual zombie) encounters Julie (a human survivor), and rescues her from a zombie attack. Julie sees that R is different from the other zombies, and as the two form a special relationship in their struggle for survival, R becomes increasingly more human – setting off an exciting, romantic, and often comical chain of events that begins to transform the other zombies and maybe even the whole lifeless world.
Rated PG-13 for Zombie violence and some language
Cast: Nicholas Hoult, Teresa Palmer, Rob Corddry, John Malkovich, Dave Franco, Analeigh Tipton
Director: Jonathan Levine
See or not: Not
My Review »
The MovieByte Podcast # 30: We're Fine Here »
Warm Bodies Trailer »
Four Minute Clip from Warm Bodies »
---
Side Effects - R
I don't think I'm interested, it looks positively horrible. But I probably will see it to be able to offer my opinion. I expect this to be about a 2 star film.
SIDE EFFECTS is a provocative thriller about Emily and Martin (Rooney Mara and Channing Tatum), a successful New York couple whose world unravels when a new drug prescribed by Emily's psychiatrist (Jude Law) – intended to treat anxiety – has unexpected side effects.
Rated R for Sexuality, nudity, violence and language.
Cast: Rooney Mara, Channing Tatum, Jude Law, Catherine Zeta-Jones
Director: Steven Soderbergh
See or not: Probably Not