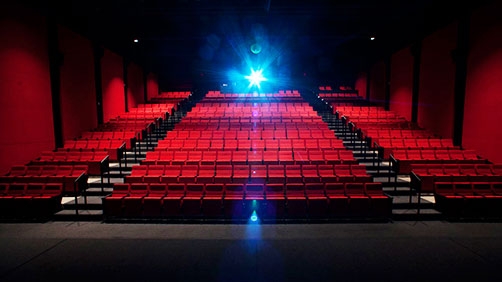 Hey peeps, we got some movies lined up for you to see this weekend. The light at the end of the winter tunnel is getting brighter, we're walking toward it, it's almost here. It's not quite summer yet, but we do have some good options at least now. Let's take a gander.
New Films
G.I. Joe: Retaliation - PG-13
This film is not going to be anything like Shakespeare. It's not even going to be as good as a really good action film like The Avengers. And yet I expect it to be fun. It has Bruce Willis in it for crying out loud (and we're pretending like that last Die Hard film he made doesn't exist). The first G.I. Joe film was pretty fun and I'm expecting the same from this one.
In the continuing adventures of the G.I. Joe team, Duke (Channing Tatum), second-in-command Roadblock (Dwayne Johnson), and the rest of the Joes (D.J. Cotrona, Byung-hun Lee) face a two-fold threat. Not only is their mortal enemy COBRA rearing its ugly head again, but there is also a threat from within the U.S. government: There might be an impostor in the White House. Meanwhile, Snake Eyes (Ray Park) is on a search for inner peace but learns that his nemesis, Storm Shadow, is still alive.
PG-13 | Intense Seq of Combat Violence, Brief Sensuality, Language and Martial Arts Action
Cast: D.J. Cotrona, Lee Byung-hun, Adrianne Palicki, Ray Park, Jonathan Pryce, RZA, Ray Stevenson, Channing Tatum, Elodie Yung, Bruce Willis, Dwayne Johnson
Director: Jon M. Chu
Genres: Action/Adventure
See or Not: Probably See
Apple Trailers Page »
'G.I. Joe: Retaliation' Featurette »
'G.I. Joe: Retaliation' - Two New TV Spots »
---
Tyler Perry's Temptation - PG-13
It's possible this film will have a good redemptive element and correctly portray adultery with the hurt and pain it causes. And yet, the previews still look awful to me. I really don't want to see this film.
An explosive romance about the seductive dangers of the forbidden, this film tells the provocative and sensual story of Judith, an ambitious married woman whose obsessive passion for a handsome billionaire leads to betrayal, danger and a choice that will forever alter the course of her life.
PG-13 | Some Violence, Sexuality and Drug Content
Cast: Jurnee Smollett-Bell, Lance Gross, Kim Kardashian, Vanessa Williams, Robbie Jones
Director: Tyler Perry
Genres: Drama
See or Not: Probably Not
---
The Host - PG-13
I'm definitely intrigued by this one. I love the Sci-Fi/Fantasy genre anyway. And I enjoyed certain aspects of the Twilight series. So I am interested to see whether I'm going to like this installment from Twilight author Stephanie Meyer. I can really see this going either way. I will be seeing this film this weekend, then Joe and I will be talking about it on The MovieByte Podcast this coming Wednesday.
What if everything you love was taken from you in the blink of an eye? "The Host" is the next epic love story from the creator of the "Twilight Saga," worldwide bestselling author, Stephenie Meyer. When an unseen enemy threatens mankind by taking over their bodies and erasing their memories, Melanie Stryder (Saoirse Ronan) will risk everything to protect the people she cares most about — Jared (Max Irons), Ian (Jake Abel), her brother Jamie (Chandler Canterbury) and her Uncle Jeb (William Hurt) , proving that love can conquer all in a dangerous new world.
PG-13 | Some sensuality and violence
Cast: Saoirse Ronan, Max Irons, Jake Abel, Chandler Canterbury, Diane Kruger, Frances Fisher, William Hurt
Director: Andrew Niccol
Genres: Sci-Fi/Fantasy
See or Not: Too Soon to Say.
'The Host' Trades Vampires for Aliens »
'The Host' - The Seeker (and other) Featurettes »
New Trailer for 'The Host' »
3 Clips from 'The Host' »
---
Still In Theaters
The Croods - PG
My first thought when I saw the trailer for this film was, "oh, please" but after another trailer or two I'm sort of warming up to it (my favorite scene in the latest trailer is where the girl screams bloody murder about shoes, then says, "I love them! Where are my feet?"). But I really have no good idea which way this film will go.
THE CROODS is a comedy adventure that follows the world's first modern family through the journey of a lifetime. When the cave that has always been their home is destroyed – with the rest of their world not far behind it – The Croods are forced to set off on the first family road (or path) trip. Rocked by generational clashes and seismic shifts, The Croods discover an incredible new world filled with fantastic creatures, and a future beyond any they imagined.
PG | Some scary action
Cast: Nicolas Cage, Emma Stone, Ryan Reynolds, Catherine Keener, Cloris Leachman, Clark Duke
Director: Kirk De Micco, Chris Sanders
Genres: Action/Adventure, Animated, Family
See or not: Not willing to say yet
---
Olympus Has Fallen - R
I was pretty satisfied with this film, all things considered. I gave it a 4 of 5 star rating on the podcast this past week. Joe only gives it 3 of 5 stars, and he wrote our review. But I recomend it a but more than him. Be sure to check out the podcast and Joe's review.
The unthinkable happens when heavily armed and highly trained terrorists launch a bold daytime attack on the White House. The building is overrun, and President Benjamin Asher (Aaron Eckhart) and his staff are taken hostage. Luckily for Asher, former presidential security officer Mike Banning (Gerard Butler) is on the scene. With time running out, it's up to Banning to locate Asher's son before the extremists do and rescue the president before his captors unleash their ultimate plan.
R | Strong Violence and Language Throughout
Cast: Gerard Butler, Aaron Eckhart, Morgan Freeman, Angela Bassett
Director: Antoine Fuqua
Genres: Action/Adventure, Suspense/Thriller
See or not: See.
The Moviebyte Podcast #37: Nuclear
Olympus Has Fallen - Review »
'Olympus Has Fallen' Trailer »
'Olympus Has Fallen' Featurette »
'Olympus Has Fallen' New TV Spot »
---
The Call - R
After seeing this film, I have to say that I think on some levels it's worth seeing — at least for the first two acts. The last act failed pretty miserably. That said, I did enjoy the film. Be aware that it's pretty intense. Joe and I reviewed the film on Wednesday's episode of The MovieByte Podcast.
When veteran 911 operator, Jordan (Halle Berry), takes a life-altering call from a teenage girl (Abigail Breslin) who has just been abducted, she realizes that she must confront a killer from her past in order to save the girl's life. Full synopsis
R | Violence, Some Language and Disturbing Content
Cast: Halle Berry, Abigail Breslin, Morris Chestnut, Michael Eklund, Michael Imperioli
Director: Brad Anderson
Genres: Suspense/Thriller
See or not: I'll venture a See
The MovieByte Podcast #36: Halle Berry's Hair »
Halle Berry in 'The Call' - Trailer »
'The Call' Trailer 2 »
---
Oz The Great and Powerful - PG
Oz is worth seeing, if not quite as good as I might have hoped. Still, it's loads better than that other Oz film I can't stand (oh Judy Garland…). Of course this is technically a prequel to that part of the story. And it gets just a tad cheesy from time to time, but it was always enjoyable. Joe and I also discussed this film on Episode 35 of The MovieByte Podcast.
When Oscar Diggs (James Franco), a small-time circus magician with dubious ethics, is hurled away from dusty Kansas to the vibrant Land of Oz, he thinks he's hit the jackpot—fame and fortune are his for the taking—that is until he meets three witches, Theodora (Mila Kunis), Evanora (Rachel Weisz) and Glinda (Michelle Williams), who are not convinced he is the great wizard everyone's been expecting. Reluctantly drawn into the epic problems facing the Land of Oz and its inhabitants, Oscar must find out who is good and who is evil before it is too late. Putting his magical arts to use through illusion, ingenuity—and even a bit of wizardry—Oscar transforms himself not only into the great wizard but into a better man as well.
PG | Sequences of action and scary images, and brief mild language
Cast: James Franco, Mila Kunis, Rachel Weisz, Michelle Williams, Zach Braff, Joey King
Director: Sam Raimi
Genres: Action/Adventure, Sci-Fi/Fantasy
See or not: See
The MovieByte Podcast #35 - Monochromatic »
'Oz the Great and Powerful' Trailer 2 »
'Oz' New Year TV Spots »
'Oz' Images Gallery - Linked »
'Oz the Great and Powerful' TV Spot »
'Oz the Great and Powerful' Bubbles and Fireballs (clips) »
---
Admission - PG-13
Meh, I'm not particularly interested in this one. Still, Tina Fey said recently that that the only way she agreed to take the part was that they remove sex scenes from the script. I applaud her for that. And I can see how if you like her brand of humor, this may be the film for you.
Tina Fey (Date Night, 30 Rock) and Paul Rudd (I Love You Man, Knocked Up) star in Admission, the new film directed by Academy Award nominee Paul Weitz (About a Boy), about the surprising detours we encounter on the road to happiness. Straight-laced Princeton University admissions officer Portia Nathan (Fey) is caught off-guard when she makes a recruiting visit to an alternative high school overseen by her former college classmate, the free-wheeling John Pressman (Rudd). Pressman has surmised that Jeremiah (Nat Wolff), his gifted yet very unconventional student, might well be the son that Portia secretly gave up for adoption many years ago. Soon, Portia finds herself bending the rules for Jeremiah, putting at risk the life she thought she always wanted–but in the process finding her way to a surprising and exhilarating life and romance she never dreamed of having.
PG-13 | Language and some sexual material
Cast: Tina Fey, Paul Rudd, Nat Wolff, Michael Sheen, Wallace Shawn
Director: Paul Weitz
Genres: Romantic Comedy, Comedy
See or not: Meh.
---
The Incredible Burt Wonderstone - PG-13
While I'm not exactly looking forward to this film, I doubt it will be completely awful. That said I have no desire to see it really, but probably will as some point. It's also worth noting that it's completely failing at the box office. That's not always a good indicator to me that it's awful, but it is helpful to know.
Superstar magicians Burt Wonderstone (Steve Carell) and his partner, Anton Marvelton (Steve Buscemi), have reigned as kings of the Las Vegas strip for years. Their work rakes in millions of dollars, but the biggest illusion yet is their friendship, for – now – time and familiarity have bred contempt between them. When a street magician's increasing popularity threatens to knock them off their thrones, Burt and Anton recognize that they have to repair the relationship and salvage the act. Full synopsis
PG-13 | Sexual content, dangerous stunts, a drug-related incident and language
Cast: Steve Carell, Steve Buscemi, Olivia Wilde, Jim Carrey, James Gandolfini, Alan Arkin
Director: Don Scardino
Genres: Comedy
See or not: Meh - I'll update my opinion after I've taken the time to see it.
'Burt Wonderstone' Promo »
Apple Trailers Page »
---
Identity Thief - R
This is a dreadful film and I don't recommend it. Catch my review.
Florida resident Diana (Melissa McCarthy) has a luxurious lifestyle as the queen of retail, buying whatever strikes her fancy – and it's all free, thanks to Sandy Bigelow Patterson (Jason Bateman), a guy from Denver whose identity she stole. With just one week to track down Diana before his world implodes, the real Sandy heads south to confront the unapologetic con artist and bring her back to Denver so that he can clear his name and restore his shattered credit rating.
Rated R for Sexual Content and Language
Cast: Jason Bateman, Melissa McCarthy, Jon Favreau, Amanda Peet, Tip "T.I." Harris, Génesis Rodríguez
Director: Seth Gordon
See or not: NOT
My Review »
Apple Trailers Page »
---
Jack the Giant Slayer - PG-13
This is a really good film. I don't know what is wrong with critics and general audiences finding fault with it. Someone, somewhere seems to be stiring up angst against it, and it's now become the hip and cool thing to hate on this film. That's just too bad because it's actually really good. Joe and I talked about it on The MovieByte Podcast #34, be sure to tune in to hear more.
When young farmhand Jack (Nicholas Hoult) unwittingly opens a portal between his realm and a race of giants, it rekindles an ancient war. Roaming Earth for the first time in centuries, the fearsome giants seek to reclaim the land they lost long ago. Jack has to face an army of foes that he thought existed only in legend, but through his arduous fight for the kingdom and its people, he may win the love of a brave princess, perhaps becoming a legend himself.
Rated PG-13 for intense scenes of fantasy action violence, some frightening images and brief language
Cast: Nicholas Hoult, Eleanor Tomlinson, Ewan McGregor, Stanley Tucci, Eddie Marsan
Director: Bryan Singer
Genres: Action/Adventure, Sci-Fi/Fantasy
See or not: See
The MovieByte Podcast #34 »
Bryan Singer's Jack the Giant Slayer Trailer »
Jack The Giant Slayer Trailer #3 »
Jack the Giant Slayer Clip »
Jack the Giant Slayer - Featurette 1 »
---
Snitch - PG-13
Meh.
In the fast-paced action thriller SNITCH, Dwayne Johnson stars as a father whose teenage son is wrongly accused of a drug distribution crime and is looking at a mandatory minimum prison sentence of 10 years. Desperate and determined to rescue his son at all costs, he makes a deal with the U.S. attorney to work as an undercover informant and infiltrate a drug cartel on a dangerous mission – risking everything, including his family and his own life.
Rated PG-13 for Sequences of Violence and Drug Content
Cast: Dwayne Johnson, Barry Pepper, Jon Bernthal, Susan Sarandon, Michael Kenneth Williams
Director: Ric Roman Waugh
Genres: Suspense/Thriller
See or not: I'm thinking not
---
Safe Haven - PG-13
Looks sappy and stupid to me. But you never know.
An affirming and suspenseful story about a young woman's struggle to love again, Safe Haven is based on the novel from Nicholas Sparks, the best-selling author behind the hit films The Notebook and Dear John. When a mysterious young woman arrives in a small North Carolina town, her reluctance to join the tight knit community raises questions about her past. Slowly, she begins putting down roots, and gains the courage to start a relationship with Alex, a widowed store owner with two young children. But dark secrets intrude on her new life with such terror that she is forced to rediscover the meaning of sacrifice and rely on the power of love in this deeply moving romantic thriller.
Rated PG-13 for Thematic material involving threatening behavior, and for violence and sexuality
Cast: Josh Duhamel, Julianne Hough
Director: Lasse Hallström
See or not: Probably Not