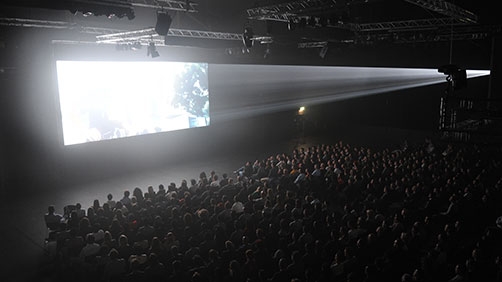 Hey, there's actually something I want to see this weekend! Jack the Giant Slayer and I'm going to be really disappointed if it's not any good! Don't disappoint me Singer! Because really, there's not much else in the box office at the moment.
New This Weekend
21 and Over - R
So, I've been seeing the preview for this around — and I would love to have those few minutes of my life back. Seriously, this looks so bad I don't know how anyone could want to see this. Please don't go see it.
Straight-A college student Jeff Chang has always done what he was supposed to do. But when his two best friends Casey and Miller surprise him with a visit for his 21st birthday, Jeff Chang decides to do everything he wants to do for a change, even though his important medical school interview is early the next morning. What was supposed to be one beer becomes a night of humiliation, over indulgence and utter debauchery in this coming-of-drinking-age-comedy, from the writers of 'The Hangover,' about living youth to its fullest.
Rated R for crude and sexual content, pervasive language, some graphic nudity, drugs and drinking
Cast: Miles Teller, Skylar Astin, Justin Chon, Sarah Wright, Jonathan Keltz, François Chau
Directors: Scott Moore, Jon Lucas
Genres: Comedy
See or not: NOT NOT NOT!
---
Jack the Giant Slayer - PG-13
I'm looking forward to this one but my counterpart, Joe, thinks it's going to be bad. Personally I think he's a party spoiler. He may be right, but I'm looking forward to it and hoping differently.
When young farmhand Jack (Nicholas Hoult) unwittingly opens a portal between his realm and a race of giants, it rekindles an ancient war. Roaming Earth for the first time in centuries, the fearsome giants seek to reclaim the land they lost long ago. Jack has to face an army of foes that he thought existed only in legend, but through his arduous fight for the kingdom and its people, he may win the love of a brave princess, perhaps becoming a legend himself.
Rated PG-13 for intense scenes of fantasy action violence, some frightening images and brief language
Cast: Nicholas Hoult, Eleanor Tomlinson, Ewan McGregor, Stanley Tucci, Eddie Marsan
Director: Bryan Singer
Genres: Action/Adventure, Sci-Fi/Fantasy
See or not: Tentative See
Bryan Singer's Jack the Giant Slayer Trailer »
Jack The Giant Slayer Trailer #3 »
Jack the Giant Slayer Clip »
Jack the Giant Slayer - Featurette 1 »
---
The Last Exorcism Part II - PG-13
I have no interest.
Continuing where the first film left off, Nell Sweetzer (Ashley Bell) is found terrified and alone in rural Louisiana. Back in the relative safety of New Orleans, Nell realizes that she can't remember entire portions of the previous months only that she is the last surviving member of her family. Just as Nell begins the difficult process of starting a new life, the evil force that once possessed her is back with other, unimaginably horrific plans that mean her last exorcism was just the beginning.
Rated PG-13 for horror violence, terror and brief language
Cast: Ashley Bell, Julia Garner, Spencer Treat Clark, Louis Herthum
Director: Ed Gass-Donnelly
Genres: Horror, Suspense/Thriller
See or not: I'm going with Not
---
Stoker - R
This also looks terrible. This time of year is just terrible for the cinema.
After India's (Wasikowska's) father dies in an auto accident, her Uncle Charlie (Goode), who she never knew existed, comes to live with her and her emotionally unstable mother Evelyn (Kidman). Soon after his arrival, she comes to suspect this mysterious, charming man has ulterior motives, but instead of feeling outrage or horror, this friendless girl becomes increasingly infatuated with him.
Rated R for disturbing violent and sexual content
Cast: Mia Wasikowska, Matthew Goode, Nicole Kidman, Dermot Mulroney, Jacki Weaver
Director: Park Chan-wook
Genres: Horror, Suspense/Thriller
See or not: NOT
---
Honestly the pickings are pretty slim and I'm not going to go through the several other terrible or limited release films that are new this weekend. Let's move on to stuff that's still in the theater.
Now Playing
Identity Thief - R
This is a dreadful film and I don't recommend it. Catch my review.
Florida resident Diana (Melissa McCarthy) has a luxurious lifestyle as the queen of retail, buying whatever strikes her fancy – and it's all free, thanks to Sandy Bigelow Patterson (Jason Bateman), a guy from Denver whose identity she stole. With just one week to track down Diana before his world implodes, the real Sandy heads south to confront the unapologetic con artist and bring her back to Denver so that he can clear his name and restore his shattered credit rating.
Rated R for Sexual Content and Language
Cast: Jason Bateman, Melissa McCarthy, Jon Favreau, Amanda Peet, Tip "T.I." Harris, Génesis Rodríguez
Director: Seth Gordon
See or not: NOT
My Review »
Apple Trailers Page »
---
Snitch - PG-13
Meh.
In the fast-paced action thriller SNITCH, Dwayne Johnson stars as a father whose teenage son is wrongly accused of a drug distribution crime and is looking at a mandatory minimum prison sentence of 10 years. Desperate and determined to rescue his son at all costs, he makes a deal with the U.S. attorney to work as an undercover informant and infiltrate a drug cartel on a dangerous mission – risking everything, including his family and his own life.
Rated PG-13 for Sequences of Violence and Drug Content
Cast: Dwayne Johnson, Barry Pepper, Jon Bernthal, Susan Sarandon, Michael Kenneth Williams
Director: Ric Roman Waugh
Genres: Suspense/Thriller
See or not: I'm thinking not
---
A Good Day to Die Hard - R
Do not bother. If like me, you liked all the previous Die Hard films to some extent or other, you will be majorly disappointed with this installment. It's pretty much a butcher job on the franchise. Catch my review to see just how poorly I thought of this film.
New York City cop John McClane (Bruce Willis) arrives in Moscow to track down his estranged son, Jack (Jai Courtney). McClane thinks his son is a criminal, so it comes as a shock when he learns that Jack is actually working undercover to protect Komarov (Sebastian Koch), a Russian government whistleblower. With their own lives on the line, McClane and Jack must overcome their differences in order to get Komarov to safety and thwart a potentially disastrous crime in the Chernobyl region.
Rated R for Violence and Language
Cast: Bruce Willis, Jai Courtney, Sebastian Koch, Mary Elizabeth Winstead, Yulia Snigir, Rasha Bukvic, Cole Hauser
Director: John Moore
See or not: NOT
My Review »
Trailer #3 »
'A Good Day to Die Hard' Featurette »
---
Safe Haven - PG-13
Looks sappy and stupid to me. But you never know.
An affirming and suspenseful story about a young woman's struggle to love again, Safe Haven is based on the novel from Nicholas Sparks, the best-selling author behind the hit films The Notebook and Dear John. When a mysterious young woman arrives in a small North Carolina town, her reluctance to join the tight knit community raises questions about her past. Slowly, she begins putting down roots, and gains the courage to start a relationship with Alex, a widowed store owner with two young children. But dark secrets intrude on her new life with such terror that she is forced to rediscover the meaning of sacrifice and rely on the power of love in this deeply moving romantic thriller.
Rated PG-13 for Thematic material involving threatening behavior, and for violence and sexuality
Cast: Josh Duhamel, Julianne Hough
Director: Lasse Hallström
See or not: Probably Not
---
Dark Skies - PG-13
Meh.
From the producers of Paranormal Activity, Insidious, and Sinister comes Dark Skies: a supernatural thriller that follows a young family living in the suburbs. As husband and wife Daniel and Lacey Barret witness an escalating series of disturbing events involving their family, their safe and peaceful home quickly unravels. When it becomes clear that the Barret family is being targeted by an unimaginably terrifying and deadly force, Daniel and Lacey take matters in their own hands to solve the mystery of what is after their family.
Rated PG-13 for Violence, Language, Drug Content, All Involving Teens, Sexual Material and Terror Throughout
Cast: Keri Russell, Josh Hamilton, Dakota Goyo, Kadan Rockett, J.K. Simmons
Director: Scott Stewart
Genres: Sci-Fi/Fantasy, Suspense/Thriller
See or not: Probably Not
---
Silver Linings Playbook - R
I suppose I'm going to have to see this because everyone is saying it's good — even people I would not have expected to give what I currently know about this film. It doesn't look interesting to me, but I should give it a chance I reckon. Michael and Eric reviewed the film on Episode #3 of Movieology and they seemed to enjoy it.
Life doesn't always go according to plan…Pat Solitano (Bradley Cooper) has lost everything – his house, his job, and his wife. He now finds himself living back with his mother (Jacki Weaver) and father (Robert DeNiro) after spending eight months in a state institution on a plea bargain. Pat is determined to rebuild his life, remain positive and reunite with his wife, despite the challenging circumstances of their separation. All Pat's parents want is for him to get back on his feet - and to share their family's obsession with the Philadelphia Eagles football team. When Pat meets Tiffany (Jennifer Lawrence), a mysterious girl with problems of her own, things get complicated. Tiffany offers to help Pat reconnect with his wife, but only if he'll do something very important for her in return. As their deal plays out, an unexpected bond begins to form between them, and silver linings appear in both of their lives.
Rated R for Some Sexual Content/Nudity and Language

Cast: Bradley Cooper, Jennifer Lawrence, Robert De Niro, Jacki Weaver, Chris Tucker
Director: David O. Russell
See or not: tentative See
Movieology Episode #3: On Health, Home, and Happiness »
Apple Trailers Page »
---
Warm Bodies - PG-13
An unfortunately flawed film that I really can't recommend that you waste your money on. There was some good acting in this film, but unfortunately that acting was relegated to minor roles. The lead actors were terribly unconvincing. And the weak plot failed to engage me in any meaningful way. It might be worth watching, but wait for the Blu-ray. Catch my review here. We also talked about it briefly on The MovieByte Podcast.
A funny new twist on a classic love story, WARM BODIES is a poignant tale about the power of human connection. After a zombie epidemic, R (a highly unusual zombie) encounters Julie (a human survivor), and rescues her from a zombie attack. Julie sees that R is different from the other zombies, and as the two form a special relationship in their struggle for survival, R becomes increasingly more human – setting off an exciting, romantic, and often comical chain of events that begins to transform the other zombies and maybe even the whole lifeless world.
Rated PG-13 for Zombie violence and some language
Cast: Nicholas Hoult, Teresa Palmer, Rob Corddry, John Malkovich, Dave Franco, Analeigh Tipton
Director: Jonathan Levine
See or not: Not
My Review »
The MovieByte Podcast # 30: We're Fine Here »
Warm Bodies Trailer »
Four Minute Clip from Warm Bodies »
---
Side Effects - R
I don't think I'm interested, it looks positively horrible. But I probably will see it to be able to offer my opinion. I expect this to be about a 2 star film.
SIDE EFFECTS is a provocative thriller about Emily and Martin (Rooney Mara and Channing Tatum), a successful New York couple whose world unravels when a new drug prescribed by Emily's psychiatrist (Jude Law) – intended to treat anxiety – has unexpected side effects.
Rated R for Sexuality, nudity, violence and language.
Cast: Rooney Mara, Channing Tatum, Jude Law, Catherine Zeta-Jones
Director: Steven Soderbergh
See or not: Probably Not
---
Beautiful Creatures - PG-13
I could see this one going either way. I don't know when I will get a chance to watch it, but I am going to try to do so soon.
A supernatural love story set in the South which tells the tale of two star-crossed lovers: Ethan, a young man longing to escape his small town, and Lena, a mysterious new girl. Together, they uncover dark secrets about their respective families, their history and their town. The film is based on the first novel in the best-selling series by Kami Garcia and Margaret Stohl.
Rated PG-13 for violence, scary images and some sexual material
Cast: Alden Ehrenreich, Alice Englert, Jeremy Irons, Viola Davis, Emmy Rossum
Director: Richard LaGravenese
See or not: Maybe
---
Zero Dark Thirty - R
I'm really not interested in this film but I can see how some would be.
Following the terrorist attacks of Sept. 11, 2001, Osama bin Laden becomes one of the most-wanted men on the planet. The worldwide manhunt for the terrorist leader occupies the resources and attention of two U.S. presidential administrations. Ultimately, it is the work of a dedicated female operative (Jessica Chastain) that proves instrumental in finally locating bin Laden. In May 2011, elite Navy SEALs launch a nighttime strike against bin Laden's compound in Pakistan, killing him.
Rated R for Language, Brutal Disturbing Images and Strong Violence

Cast: Joel Edgerton, Jessica Chastain, Edgar Ramirez, Kyle Chandler, Mark Strong, Chris Pratt, James Gandolfini
Director: Kathryn Bigelow
See or not: Depends on your tastes
---
Django Unchained - R
Bloody though the film may be (this is Tarantino what would you expect?) I think you should see it. I rated it 3.5 stars. Joseph however, only rated it 2.5.
Set in the South two years before the Civil War, Django (Jamie Foxx) is a slave whose brutal history with his former owners lands him face-to-face with German-born bounty hunter Dr. King Schultz (Christoph Waltz). Schultz is on the trail of the murderous Brittle brothers, and only Django can lead him to his bounty. The unorthodox Schultz acquires Django with a promise to free him upon the capture of the Brittles - dead or alive. Success leads Schultz to free Django, though the two men choose not to go their separate ways. Instead, Schultz seeks out the South's most wanted criminals with Django by his side. Honing vital hunting skills, Django remains focused on one goal: finding and rescuing Broomhilda (Kerry Washington), the wife he lost to the slave trade long ago. Django and Schultz's search ultimately leads them to Calvin Candie (Leonardo DiCaprio), the proprietor of "Candyland," an infamous plantation where slaves are groomed to battle each other for sport.
Rated R for Strong graphic violence throughout, a vicious fight, language and some nudity.

Cast: Jamie Foxx, Leonardo DiCaprio, Christoph Waltz, Samuel L. Jackson, Walton Goggins
Director: Quentin Tarantino
See or not: See
The MovieByte Podcast #26 »
Apple Trailers Page »
---
Mama - PG-13
This is a horror film, and given the trailers, I am surprised it's only PG-13. I personally have no interest in this film, though I'll probably wind up seeing it so that I can give my informed opinion on the film for you fine folks.
On the day that their parents die, sisters Lilly and Victoria vanish in the woods, prompting a frantic search by their Uncle Lucas (Nikolaj Coster-Waldau) and his girlfriend, Annabel (Jessica Chastain). Five years later, miraculously, the girls are found alive in a decaying cabin, and Lucas and Annabel welcome them into their home. But as Annabel tries to reintroduce the children to a normal life, she finds that someone – or something – still wants to tuck them in at night.
Rated PG-13 for Violence and terror, some disturbing images and thematic elements

Cast: Jessica Chastain, Nikolaj Coster-Waldau, Megan Charpentier, Isabelle Nelisse, Daniel Kash, Javier Botet
Director: Andy Muschietti
See or not: Not
---
Hansel and Gretel - R
I enjoyed the film for what it was, but you should be warned it is rather bloody and violent at times (see the Red Band trailer). Joe didn't enjoy it very much, but he's a bit of a dead weight on these sorts of things sometimes (don't worry, he can take the jab, he's a big boy). I reviewed the film, and you might want to read that. We also talked about the film on Episode #29 of The MovieByte Podcast.
Fifteen years after Hansel (Jeremy Renner) and Gretel (Gemma Arterton) defeated the wicked witch who planned to have them for her dinner, the siblings have come of age as skilled bounty hunters. Hell-bent on retribution, they have dedicated their lives to hunting down and destroying every witch still lurking in the dark forests of their homeland. As the notorious blood moon approaches, the siblings face a great evil – one that could hold the secret to their terrifying past.
Rated R for Fantasy Horror Violence/Gore, Brief Sexuality/Nudity and Language

Cast: Jeremy Renner, Gemma Arterton, Famke Janssen, Peter Stormare, Ingrid Bolsø Berdal
See or not: See
My Review of Hansel and Gretel »
The MovieByte Podcast #29: Renner Has a Boom Stick »
'Hansel and Gretel' Red Band Trailer »
Apple Trailers Page »