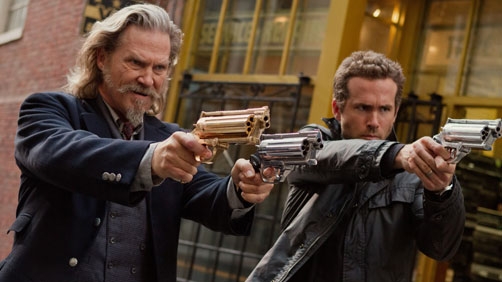 Pamela McClintock - The Hollywood Reporter
Pre-release tracking has been notably soft for R.I.P.D. considering its $130 million production budget, and it could have a hard time fending off Summit's adult action pic Red 2 and New Line's low-budget horror entry The Conjuring. At this point, they are all tracking to open in the $17 million to $20 million range, although those projections could shift when final tracking is released Thursday.

The three movies begin rolling out on Thursday night, while DreamWorks Animation and 20th Century Fox's Turbo opens Wednesday.

Turbo, looking to benefit from being an original story after sequelsMonsters University and Despicable Me 2, is eyeing a five-day debut in the $35 million range, although more bullish box office observers believe it will come in around $40 million.
Yeah, I'm still not looking forward to Turbo, and I hope I'm wrong because I'll almost certainly be seeing it. RED 2 is obviously the one I'm looking forward to the most. I enjoyed the first one a whole lot, I mean a whole lot. At the same time, I'm really hoping R.I.P.D. will be some good fun with a possibly decent plot… I mean I enjoy the Men in Black films quite a bit, surely this seems like something in the same vein, right?