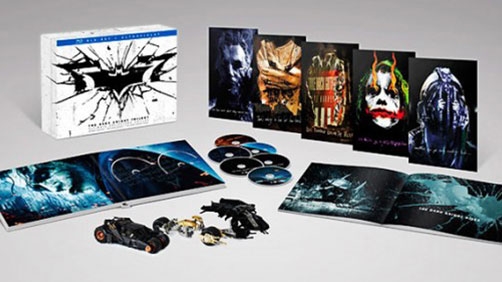 Germain Lussier - /Film
Last week, images of this set leaked and we asked the question "Is This The 'Dark Knight' Trilogy Ultimate Collectors Edition Blu-ray Box Set?" The answer turns out to be…kind of. The official set, seen above, has now been revealed and it shares many features with last week's images along with a few treats all its own. (Which suggests either those images were an international or preliminary version of the set). The real set is scheduled for release September 24 with an MSRP of $99.97.
Alright bat-geeks, get your wallet out and be prepared to pay dearly for the [deep announcer, trailer guy voice] Dark Knight Trilogy Ultimate Collectors Edition. [/endvoice].
This set will feature all sorts of special features, INCLUDING, a conversation with Christopher Nolan AND Richard Donner, where the two sit down to talk about bringing two of the most iconic superheroes to the big screen. That I want to see!