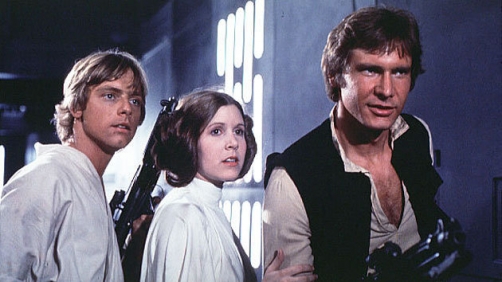 Daniel Krupa - IGN
Executive producer Kathleen Kennedy has given an update on the production of Episode VII at Star Wars Celebration Europe.

Kennedy revealed she is currently dividing her time between Lucasfilm – where she's sat in George's old office, by the way – and Bad Robot, where she's busy having extensive story meetings with J.J. Abrams and the rest of the writing team, including Empire Strikes Back scribe Lawrence Kasdan. And that emphasis on story and character came up repeatedly during today's panel, hosted by Warwick Davis.

"The story and characters are all we're talking about right now," said Kennedy. "We have an amazing team at ILM, who can create fantastic effects, but if we don't have a great story and characters, the effects mean nothing."
Oh good, because for a bit there, what with Episodes I, II, and III being out there and all, I thought special effects and CGI were everything and story was nothing, less than nothing.
Despite my snarkiness though, I really am encouraged to hear that. It maketh my heart glad! There's also this:
And when Davis asked what exactly was in that toolbox, Kennedy said, "It's using model makers; it's using real droids; it's taking advantage of artwork that you actually can touch and feel. And we want to do that in combination with CG effects. We figure that's what will make it real."
YES!