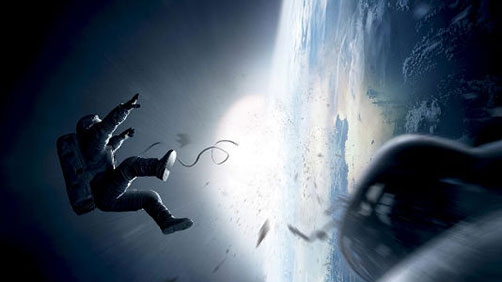 Germain Lussier - /Film
Alfonso Cuaron both likes, and dislikes, the teaser trailer for his upcoming film Gravity. He told Hall H at Comic-Con a trailer full of explosions doesn't really tell the true story of the movie. He said the movie is a very intense, emotional journey that puts the viewer in an immersive experience. Hopefully, that experience should make them feel like they're floating in space. Plus, there's no sound in space, so you can't hear any explosions.

To illustrate, he showed a several minute long, long take featuring stars George Clooneyand Sandra Bullock at the moment where they realize this trip into space is not going to go well. The shot sweeps all over their ship. Down, around, upside down, all leading up to a rogue, debris field that'll crash with the astronauts and send Bullock's character off into space. To say the shot was intense and scary would be an understatement.
Head on over to read more from Germain Lussier. I'm looking forward to this film at least a little. I am concerned it will be a little boring, I mean what's the story here. But I'm definitely willing to give it a chance.