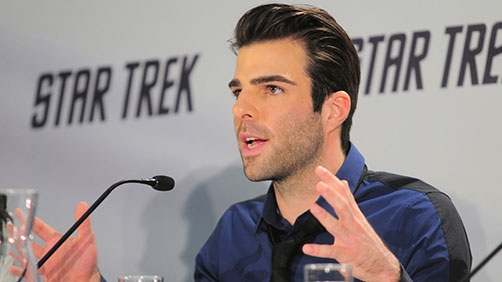 Lucien - BuzzHub
When asked about his role as Spock in J.J. Abrams' Star Trek films, Quinto told the audience:
Star Trek 3 should be filming, I suppose, next year. It's going to be made a lot quicker than the last one. That's the plan, although nothing is confirmed yet.
Wow, if that's true they are anxious to get this next film out the door. Of course I do think part of the reason Star Trek Into Darkness didn't do as well as hoped is because it came so long after the first one and the hype had died down a bit. So maybe the momentum will help.
At one point in the interview, Quinto mentioned that J.J. Abrams was planning to direct Star Trek 3, which is another surprising fact, but once again, he did not elaborate.
Now, if that does happen, I will be shocked. I just don't think the poor guy can do it, goodness. But he does seem like the type of guy that wants to do all the things that he wants to do, and maybe he'll find a way to get it done.
Also, I hate it when people call it Star Trek 3. It will actualy be the 13th Star Trek film.