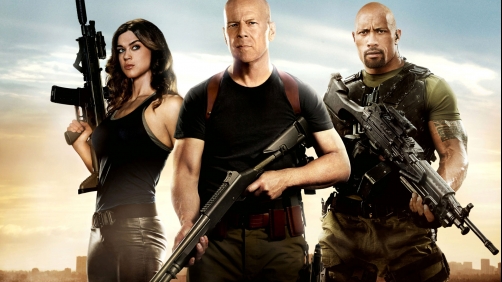 Steve 'Frosty' Weintraub - Collider
With G.I. Joe: Retaliation now available on VOD and hitting Blu-ray/DVD next week, I was able to sit down with director Jon M. Chu last weekend for an exclusive video interview. However, with Chu returning to direct G.I. Joe 3, I used a lot of my time talking about the next installment and what fans can expect. Some of the highlights he told me were:

Bruce Willis and Dwayne Johnson are returning.
The release date is still being figured out.
Regarding the script, they're currently "narrowing down the writer."
On Retaliation, they learned that fans were okay with stretching things a little further, so now they can "double down on the adventure part of this movie." He cautions that they won't go sci-fi, but they can "push the boundaries of the world a bit more."
They're not sure if they're going to shoot in 3D and/or IMAX, but everything's on the table. Says there are some benefits to post-converting.
They learned on Retaliation that it's hard to have a lot of characters, but it would be fun to see some new Joes joining the team.
I asked if he ever thought about combining the worlds of Transformers and G.I. Joe since they're both owned by Hasbro. Says he would love to, as long as the reality of their worlds matches.
NO! Retaliation was terrible, let's not make it worse. Let's go over this shall we? The plot was terrible, Bruce Willis was not well utilized at all, Dwayne Johnson still can't act, they were already in sci-fi territory on many fronts ("pushing the boundaries"), and even the idea of combining with Transformers coming up tells me how far gone this franchise is.
UGH!