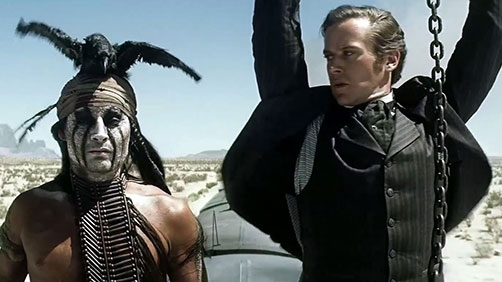 Pamela McClintock - The Hollywood Reporter
Disney's The Lone Ranger has ended up in the box office stockades, with the studio and even producer Jerry Bruckheimer facing a substantial loss after the meek opening of the Johnny Depp-Armie Hammer Western in North America and in its first overseas markets.

Just as Lone Ranger began rolling out in theaters July 3, Cowen & Co. analyst Doug Creutz predicted a $100 million write-down for Disney. Now, box office experts and rival studio insiders tell The Hollywood Reporter that the loss could approach or even surpass $150 million based on final opening numbers, although they add that Disney likely can weather the storm thanks to summer box office hits Iron Man 3 and Monsters University.
This is easy to say on this side of the release date, but I'm pretty sure I could have told you that this was going to happen. As far as Disney weathering the storm: duh, of course they can.
Sources say Lone Ranger could strain relations between Disney and Bruckheimer, who are supposed to reteam on Pirates of the Caribbean 5, set for release on July 7, 2015. Outside of the Pirates films—which have racked up $3.7 billion in global ticket sales—and the successful National Treasure franchise, several of Bruckheimer's Disney films have underperformed at the box office, including The Sorcerer's Apprentice, Prince of Persia: The Sands of Time and G-Force.
Now that would be just stupid. Why should one bad film strain relations? Nobody hits a home run every time.