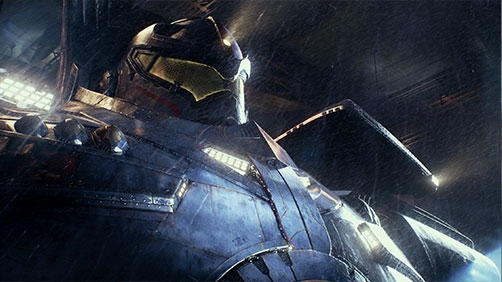 Jason McDonald over at The Playlist mentions:
As recent reports have revealed, tracking has suggested that "Pacific Rim" may succumb to the Adam Sandler sequel "Grown Ups 2," which opens the same weekend. It's certainly dire news for fans of kaijus and robots, but Guillermo Del Toro isn't taking the speculation sitting down.

On DelToroFilms, an official fansite for the acclaimed director, Del Toro took to the forums to try and restore faith to his loyal fans. And despite the rumblings around town that the monster movie might flop or under-perform, the director remains optimistic. "We are working on it. We concentrated on the core for a long time- but we are barely started on the campaign. I am seeing the ads now and I am seeing outdoors and we are now supplementing what we did with character or tone," he wrote. "We just need to keep working. Our numbers are going up. Not in a minor way. Significant. We are one the right track."
In my opinion, many mistakes were made in the early marketing of this film such that I was most certainly not very interested. What's interesting though is that not a lot of others were very interested either apparently. The Pacific Rim promotional campaign actually seemed to be engineered to appeal to an audience with no brain that just wanted stuff to ECKSPLODE. My lack of interest early on was directly due to the fact that it appeared there was very little substance and story to go along with the boom and banging and big giant robots and aliens and garbage. I like films for story first and foremost.
Material coming out of the promotional campaign more recently have ignited my interst a little more. I still remain skeptical, but I have more hope for the film now.
Here is a TV Spot and 2 clips from the upcoming film.