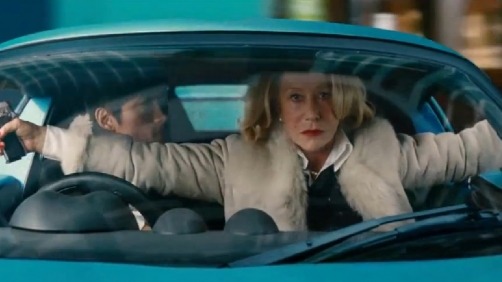 RED, a 2010 film starring Bruce Willis, Mary-Louise Parker, John Malkovich, Morgan Freeman, and Helen Mirren, was great because it brought something new to the table: older actors, most not known for starring in action films, coming together to create an action film that works as both a good action film and as a good comedy too. However, I was slightly concerned for the sequel; could the filmmakers capture what was special about the first film without rehashing it in the second? Luckily, I think that they (mostly) pulled it off.
The Mission
RED 2 picks up where the first film left off, with Frank Moses (Bruce Willis) and now-girlfriend Sarah Ross (Mary-Louise Parker) trying to live a normal life together. However, Frank's efforts to keep Sarah safe and out of harm's way fail when the pair are sucked into a plot to find a nuclear device that was lost in Russia several years ago. Marvin Boggs (John Malkovich) and Victoria Winslow (Helen Mirren) are back to help, with a blast from Frank's past returning as well - Katja, played by Catherine Zeta-Jones, who is described as "Frank Moses' kryptonite." It's a race against the clock as the team tries to find the weapon while trying to avoid assassination attempts by "the world's number one contract killer," Han Cho Bai (Byung-hun Lee).
Still Retired, Extremely Dangerous
It's nice to see the original cast return, although I must admit that Morgan Freeman's character is a missed presence. Bruce Willis as Frank brings back a lot of the interesting back and forth of being a stone-cold killer and someone in love, which brings some more humor to the table. Mary-Louise Parker as Sarah is mostly great, but I did think that the character was a bit too over-the-top eccentric at times. Most of that, however, can be blamed on the presence of Catherine Zeta-Jones' character, Katja, who I didn't like at all. I didn't like the rivalry between her and Sarah, which felt forced at times, such as in the car chase scene. I understand that there needed to be a reason to create tension between Sarah and Frank, but I thought that it had already been established pretty well by showing Frank's worry at Sarah's involvement and apprehension at her carrying a gun, something that resolved appropriately later in the film. Oh well. Anyway, John Malkovich as Marvin and Helen Mirren as Victoria are probably my favorite two characters of the film; Marvin is kooky in all the right ways, and seeing Helen Mirren firing guns out both windows of a car is worth ticket price. Anthony Hopkins makes an appearance as well as Dr. Edward Bailey, a wonderfully quirky character who has a surprise or two up his sleeves. I was a little iffy on my opinion of him at first, but he certainly grew on me and became one of my favorite parts of the film.
"Well, You've Heard of Me Now"
Very little of the humor in the film feels forced, making the conversations and interactions between characters feel natural. Many of the jokes are brought about by the different worldview that these characters have compared to normal people; for example, Marvin's negative observation at the start of the film about how Frank "[hasn't] killed anyone in months" or Frank's gift of a personalized handgun to Sarah being seen as a romantic gesture. Some of the humor is even pretty tongue-in-cheek, such as when Victoria infiltrates an insane asylum by eccentrically declaring herself "the Queen of England," a reference to Helen Mirren's arguably most famous role as Queen Elizabeth II in the 2006 film The Queen. Composer Alan Silvestri's score is entertaining as well, despite it being completely different than anything I've heard from him before. He does a great job with creating music that drives the film forward without intruding on what's happening on-screen.
Nostrovia!
I have a couple of spoiler-y dislikes that I won't discuss here (for that, listen to Episode 53 of the MovieByte Podcast), but, in the grand scheme of things, they aren't all that important. What is important, though, is that, despite not being as good overall as the first film, it is still just as fun, bringing lots of laughs along the way. There is a nice twist at the end of the film that I honestly didn't see coming, which is always nice, the stylized scene changes are well-done and appropriately comic book-esque, and it takes what was fun about the first film and does something new with it. It all boils down to this: if you liked the first film, then RED 2 is definitely worth checking out.