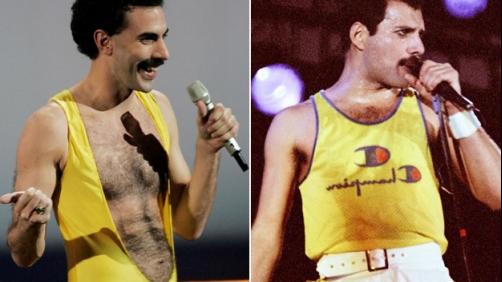 Nikki Finke - Deadline
For those of you who didn't know, a biopic about the life of Queen's lead singer Freddie Mercury has been in the works, with Sacha Baron Cohen starring as the late rock singer, who died of AIDS in 1991. However, according to Nikki Finke over at Deadline, there have been creative differences between the actor and the surviving members of the band, Brian May and Roger Taylor, who have script and director approval for the film.
The reason is that the band wanted to make more of a PG movie about Queen while Cohen was counting on a gritty R-rated tell-all centered around the gifted gay singer. Given the astonishing physical resemblance, it's hard to imagine anyone else playing Freddie but Sacha. Cohen had brought in Peter Morgan to write and various directors including David Fincher and Tom Hooper to develop the project for himself. However, none were approved by the band.
I'm personally torn over this. I'm a big fan of Queen's music and own their entire digital discography, and I also have several of their albums on vinyl records. Freddie Mercury was an incredibly talented musician who died way too young. While I would like to see a film about him, I don't know if I could sit through a two-hour "R-rated tell-all," but I don't want it to be overly watered-down either. At this point, I'd rather they just compile concert footage and intersperse interviews about Mercury between songs.
Whatever happens now, I can't think of anyone else who looks as much like Mercury as Baron Cohen does, so it'll be interesting to see what direction this film takes without him, if it's even made at all.