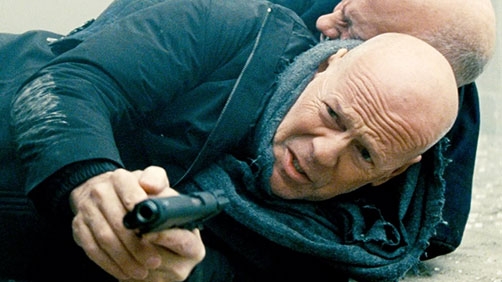 This weekend the box office is zipping right through a dose of nitrous oxide into the world of the dead to bring you some folks who are retired but extremely dangerous.
New in Theaters
Turbo — PG
To be honest, this film doesn't look great to me. Dreamworks has always been a bit hit or miss for me, and especially in the the past they've tended to be a bit copy cat like with some of their films.
But, I do have it on good authority that this film is better than one might expect so I'll have to see it and form my own opinion.
Turbo (Ryan Reynolds) is a speed-obsessed snail with an unusual dream: to become the world's greatest racer. This odd snail gets a chance to leave his slow-paced life behind when a freak accident gives him the power of superspeed. Newly revved-up, Turbo embarks on an extraordinary quest to enter and win the Indianapolis 500. Accompanied by a dedicated pit crew of trash-talking adrenaline junkies, Turbo becomes the ultimate underdog by refusing to let his limitations get in the way of his dreams.
1 hr 36 min
PG | some mild action and thematic elements
Cast: Ryan Reynolds, Paul Giamatti, Michael Peña, Samuel L. Jackson, Luis Guzman, Bill Hader Director: David Soren
Genres: Animated, Family
See or not: Maybe…
'Turbo' Theatrical Trailer 2 »
'Turbo' Trailer #2 »
Dreamworks 'Turbo' Trailer »
---
R.I.P.D. — PG-13
I've been looking forward to this film, but I'm not hearing good things. In addition, the studio did not offer any pre-screenings to the press for embargoed reviews and the like. That does not bode well, that usually means the studios know that the film is bad and they want to keep bad buzz out of the press as long as possible so more people will go see the film instead of giving it a pass because they didn't hear good things about it.
Still, I kind of think I could like it. I like the Men in Black franchise a lot, and this has more than a little resemblance to that, but doesn't look like just a repeat.
We'll see (pun intended).
Veteran sheriff Roy Pulsifer (Bridges) has spent his career with the legendary police force known as R.I.P.D. tracking monstrous spirits who are cleverly disguised as ordinary people. His mission? To arrest and bring to justice a special brand of criminals trying to escape final judgment by hiding among the unsuspecting on Earth. Once the wise-cracking Roy is assigned former rising-star detective Nick Walker (Reynolds) as his junior officer, the new partners have to turn grudging respect into top-notch teamwork. When they uncover a plot that could end life as we know it, two of R.I.P.D.'s finest must miraculously restore the cosmic balance…or watch the tunnel to the afterlife begin sending angry souls the very wrong way.
1 hr 36 min
PG-13 | Violence, sci-fi/fantasy action, some sensuality, and language including sex references
Cast: Jeff Bridges, Ryan Reynolds, Kevin Bacon, Mary-Louise Parker, Stephanie Szostak
Director: Robert Schwentke
Genres: Action/Adventure, Comedy
See or not: Maybe…
---
RED 2 — PG-13
I enjoyed the first film in this franchise so much that I was greatly looking forward to this second installment. And having seen it last night, let me just tell you that it lives up. Don't listen to the critics needlessly beating it down (critics tend to suck all the joy out of life anyway). This film is fun, with a fun, and funny plot, engaging characters, and a supremely well acted, and surprise villain. Definitely go see this one folks!
In RED 2, the high-octane action-comedy sequel to the worldwide sleeper hit, retired black-ops CIA agent Frank Moses reunites his unlikely team of elite operatives for a global quest to track down a missing portable nuclear device. To succeed, they'll need to survive an army of relentless assassins, ruthless terrorists and power-crazed government officials, all eager to get their hands on the next-generation weapon. The mission takes Frank and his motley crew to Paris, London and Moscow. Outgunned and outmanned, they have only their cunning wits, their old-school skills, and each other to rely on as they try to save the world—and stay alive in the process.
1 hr 56 min
PG-13 | Pervasive action and violence including frenetic gunplay, and for some language and drug material.
Cast: Bruce Willis, John Malkovich, Mary-Louise Parker, Helen Mirren, Anthony Hopkins, Lee Byung-hun
Director: Dean Parisot
Genres: Action/Adventure, Comedy
See or not: See!
'RED 2' »
'RED 2' - Trailer 2 »
Six Clips from 'RED 2' »
---
Still In Theaters
Despicable Me 2 — PG
A little better than I thought, and certainly a lot better than the first installment in the Despicable Me franchise. Yeah, it's a little bit slapstick and times, and the humor is not always of the highest form, but it is pretty fun. We talked about it on The MovieByte Podcast episode 51, you'll want to check that out. I rated it 3 of 5 stars. It's sort of worth seeing.
Now that Gru (Steve Carell) has forsaken a life of crime to raise Margo, Agnes and Edith, he's trying to figure out how to provide for his new family. As he struggles with his responsibilities as a father, the Anti-Villain League – an organization dedicated to fighting evil – comes calling. The AVL sends Gru on a mission to capture the perpetrator of a spectacular heist, for who would be better than the world's greatest ex-villain to capture the individual who seeks to usurp his power.
1 hr 38 min
PG | Rude humor and mild action
Cast: Steve Carell, Kristen Wiig, Benjamin Bratt, Miranda Cosgrove, Russell Brand, Ken Jeong, Steve Coogan
Director: Chris Renaud, Pierre Coffin
Genres: Animated, Comedy, Family
See or not: Meh.
The MovieByte Podcast #51: Hi-Ho, Silver »
Apple Trailers Page »
---
Pacific Rim — PG-13
I was a little worried about this film at first. It looked for all the world during the first phase of the promotional campaign like a big stupid action movie — all fluff and no substance. The tide of the campaign slowly began to turn more toward the human drama aspects as the film's release date drew ever nearer, and finally started getting me a little bit excited for the film.
And now, having seen the film, I can say it is about what I expected. Yes, there is a whole lot of crashing things around, big aliens meet up with big robots and they throw each other around a lot and tear stuff up. And yeah, there's some cheesy dialog, over the top action, way over the top humor, even some cartoonish elements. And yet, the film did have some substance, it did have some human drama, even if I wanted a little more than what I got. I give it 4 out of 5 stars and we talked about it on The MovieByte Podcast Episode 52. It's worth seeing as a summer action blockbuster.
When legions of monstrous creatures, known as Kaiju, started rising from the sea, a war began that would take millions of lives and consume humanity's resources for years on end. To combat the giant Kaiju, a special type of weapon was devised: massive robots, called Jaegers, which are controlled simultaneously by two pilots whose minds are locked in a neural bridge. But even the Jaegers are proving nearly defenseless in the face of the relentless Kaiju. On the verge of defeat, the forces defending mankind have no choice but to turn to two unlikely heroes—a washed up former pilot (Charlie Hunnam) and an untested trainee (Rinko Kikuchi)—who are teamed to drive a legendary but seemingly obsolete Jaeger from the past. Together, they stand as mankind's last hope against the mounting apocalypse.
2 hr 11 min
PG-13 | sequences of intense sci-fi action and violence throughout, and brief language
Cast: Charlie Hunnam, Diego Klattenhoff, Idris Elba, Rinko Kikuchi, Charlie Day
Director: Guillermo del Toro
Genres: Sci-Fi/Fantasy
See or not: See
The MovieByte Podcast #52: Punching Michael Bay In The Head »
Newest 'Pacific Rim' Trailer »
'Pacific Rim' Trailer 3 »
Behind the Scenes of 'Pacific Rim' »
'Pacific Rim' - 'At the Edge' TV Spot ' »
'Pacific Rim' Featurette: Robot Sets »
---
The Heat — R
Having seen the film, I can say, don't take your kids (duh, it is rated R after all). In many ways this film was fun, in some ways though, this film pegged out my cheese-o-meter. In general I feel like this film is a missed opportunity. If they had toned down just a bit of the over-the-topness, and cut down the foul language just a little, they could have had a really great film here. As it is, I was a little disappointed. I'll find time to write my full review soon.
Uptight and straight-laced, FBI Special Agent Sarah Ashburn (Sandra Bullock) is a methodical investigator with a reputation for excellence–and hyper-arrogance. Shannon Mullins (Melissa McCarthy), one of Boston P.D.'s "finest," is foul-mouthed and has a very short fuse, and uses her gut instinct and street smarts to catch the most elusive criminals. Neither has ever had a partner, or a friend for that matter. When these two wildly incompatible law officers join forces to bring down a ruthless drug lord, they become the last thing anyone expected: buddies. From Paul Feig, the director of "Bridesmaids."
1 hr 57 min
R | Pervasive language, strong crude content and some violence
Cast: Sandra Bullock, Melissa McCarthy, Demián Bichir, Marlon Wayans, Michael Rapaport
Director: Paul Feig
Genres: Comedy
See or not: Worth seeing if you can take the foul language and some over the top cheese.
"The Heat" Official Trailer »
'The Heat' Clip: Are You A Narc? »
'The Heat' - "Good Cop/Bad Cop" Clip »
---
The Lone Ranger — PG-13
This film is certainly a dismal failure at the box office, but ultimately I enjoyed it more than Despicable Me 2, and I certainly don't have the same issues with it that most critics seem to have. I rather enjoyed it, even if it did have it's flaws. I talked about both the good and the bad on The MovieByte Podcast episode 51. Chad shared many of the same opinions with me on the episode.
Native American spirit warrior Tonto (Johnny Depp) recounts the untold tales that transformed John Reid (Armie Hammer), a man of the law, into a legend of justice—taking the audience on a runaway train of epic surprises and humorous friction as the two unlikely heroes must learn to work together and fight against greed and corruption.
2 hr 29 min
PG-13 | Sequences of intense action and violence, and some suggestive material.
Cast: Johnny Depp, Armie Hammer, Tom Wilkinson, William Fichtner, Barry Pepper, Helena Bonham Carter
Director: Gore Verbinski
Genres: Action/Adventure
See or not: See.
Johnny Depp Under Arrest in 'Lone Ranger' Clip »
'The Lone Ranger' Featurette: 'Spirit Platform' »
'The Lone Ranger' Trailer 4 »
'The Lone Ranger' Final Theatrical Trailer »
'The Lone Ranger' TV Spot 2 »
'The Lone Ranger' Trailer »
---
Go see this. Duh. This should is a lot of fun, it is Pixar after all, why wouldn't it be? I'm took my two oldest with me to see it (they are 6 and 4 years old) and they loved it. Pixar films are always delightful, and even their films that I don't care so much about are way better than most other animated films on their best day.
I wrote a review for this film, and we talked about it on Episode 49 of The MovieByte Podcast.
Mike Wazowski and James P. Sullivan are an inseparable pair, but that wasn't always the case. From the moment these two mismatched monsters met they couldn't stand each other. "Monsters University" unlocks the door to how Mike and Sulley overcame their differences and became the best of friends.
1 hr 42 min
G | Frightening Scenes
Cast: Billy Crystal, John Goodman, Steve Buscemi, Helen Mirren, Peter Sohn, Joel Murray
Director: Dan Scanlon
Genres: Animated, Family
See or not: See
Monsters University - Review »
The MovieByte Podcast #49: Where Is The Incredibles Sequel? »
New Trailer and Clip for 'Monsters University' »
'Monsters University' Trailer 3 »
'Monsters University' Promos »
More 'Monsters University' Viral Marketing »
'Monsters University' - A Message from the Dean »
'Monsters University' Clip »
'Monsters University' Full Length Trailer »
'Monsters University' Featurette »
'Monsters University' Ad »
---
World War Z — PG-13
This film is not earth shattering and I have some issues with it, but it was still an enjoyable film and well done in many ways. I would give it 3.5 of 5 stars and it's certainly a viable contender for your time this weekend. Corey wrote a review of the film and he feels much more strongly in favor of it than I do.
We also ran a review from Chad Hopkins, and Chad joined me on the podcast to talk about the film as well.
A U.N. employee is racing against time and fate, as he travels the world trying to stop the outbreak of a deadly Zombie pandemic.
1 hr 55 min
PG-13 | Intense frightening zombie sequences, violence and disturbing images.
Cast: Brad Pitt, Mireille Enos, Daniella Kertesz, James Badge Dale, Ludi Boeken, Matthew Fox
Director: Marc Forster
Genres: Action/Adventure, Drama, Horror
See or not: See
The MovieByte Podcast #50: As A Five Year Old »
'World War Z' - Chad's Review »
World War Z - Review »
'World War Z' Clip - Hammer and Nails »
'World War Z' Clip - Bad News About the Zombie Apocalypse »
'World War Z' "Shows Signs of Life" »
'World War Z' TV Spot (and trailer) »
---
White House Down — PG-13
I enjoyed this film quite a lot and it's highly recommended if summer blockbuster action is your thing. In spite of the copious amounts of summer action there was actual human drama and plot, and a lot of fun. I wrote a review, and Chad and I talked about it on The MovieByte Podcast. I give it 4 of 5 stars.
In Columbia Pictures' White House Down, Capitol Policeman John Cale (Channing Tatum) has just been denied his dream job with the Secret Service of protecting President James Sawyer (Jamie Foxx). Not wanting to let down his little girl with the news, he takes her on a tour of the White House, when the complex is overtaken by a heavily armed paramilitary group. Now, with the nation's government falling into chaos and time running out, it's up to Cale to save the president, his daughter, and the country.
2 hr 17 min
PG-13 | Some language, a brief sexual image, sequences of intense action violence and intense gunfire and explosions
Cast: Channing Tatum, Jamie Foxx, Maggie Gyllenhaal, Jason Clarke, Richard Jenkins
Director: Roland Emmerich
Genres: Action/Adventure
See or not: See
White House Down - Review »
The MovieByte Podcast #50: As A Five Year Old »
'White House Down' Extended Trailer »
'White House Down' Trailer 2 »
---
Man of Steel — PG-13
I hated this film so much — SO MUCH. I had reconciled myself the reboot and even got to the point where I was looking forward to the film immensely, and I was blow away by how bad it was. If you want to look up the definition of bad filmmaking somewhere, I'm pretty sure Man of Steel would be listed somewhere in the prime examples of such. This film has no heart, it is disjoined and non-linear in a way that does not work, it left me feeling emotionally disconnected from the story and the characters and it left way too many things of the plot to chance instead of being intentional. That's not to say there weren't some things to like, but the bad far outweighed the good. I can't recommend this film.
I wrote a review and we talked about it on episode 48 of The MovieByte Podcast.
From Warner Bros. Pictures and Legendary Pictures comes "Man of Steel," starring Henry Cavill in the role of Clark Kent/Superman, under the direction of Zack Snyder ("300,""Watchmen"). The film also stars three-time Oscar® nominee Amy Adams as Daily Planet journalist Lois Lane, and Oscar® nominee Laurence Fishburne as her editor-in-chief, Perry White. Starring as Clark Kent's adoptive parents, Martha and Jonathan Kent, are Oscar® nominee Diane Lane and Academy Award® winner Kevin Costner. Squaring off against the superhero are two other surviving Kryptonians, the villainous General Zod, played by Oscar® nominee Michael Shannon, and Faora, Zod's evil partner, played by Antje Traue. Also from Superman's native Krypton are Lara Lor-Van, Superman's mother, played by Ayelet Zurer, and Superman's father, Jor-El, portrayed by Academy Award® winner Russell Crowe.
2 hr 23 min
PG-13 | Intense sequences of sci-fi violence, action and destruction, and for some language
Cast: Henry Cavill, Amy Adams, Michael Shannon, Diane Lane, Russell Crowe
Director: Zack Snyder
Genres: Action/Adventure, Drama, Sci-Fi/Fantasy
See or not: Not!
The MovieByte Podcast #48: I Will Say This Backwards »
Man of Steel - Review »
2 Clips and a 30 Second Spot for 'Man of Steel' »
Big 'Man of Steel' Trailer »
2 Clips from 'Man of Steel' »
'Man of Steel' 13 Minute Featurette »
More 'Man of Steel' In New TV Spot »
'Man of Steel' - New Featurette, New Glimpses of the Film »
'Man of Steel' Trailer 4 »
---
Now You See Me - PG-13
I found the film to be somewhat enjoyable, though the nonsensical ending ruined it for me. I'll say the acting, the design, the craft of the filmmaking, all that was great stuff. In addition to the actors playing The Four Horsemen (Woody Harrelson, Isla Fisher, Dave Franco, and Jesse Eisenberg), I really enjoyed Mark Ruffalo and Mélanie Laurent in their roles. They did an incredible job. But, as I said, this film has some problems, at least for me.
We discussed this film on The MovieByte Podcast #47 so you'll want to be sure to give that a listen.
Chad Hopkins also reviewed the film for us, you can check out his review here.
NOW YOU SEE ME pits an elite FBI squad in a game of cat and mouse against "The Four Horsemen", a super-team of the world's greatest illusionists. "The Four Horsemen" pull off a series of daring heists against corrupt business leaders during their performances, showering the stolen profits on their audiences while staying one step ahead of the law.
1 hr 56 min
PG-13 | Language, some action and sexual content
Cast: Jesse Eisenberg, Mark Ruffalo, Woody Harrelson, Isla Fisher, Dave Franco, Mélanie Laurent, Morgan Freeman, Michael Caine
Director: Louis Leterrier
Genres: Suspense/Thriller
See or not: SEE - it's worth seeing, even if I was a bit disappointed.
The MovieByte Podcast #47: The Ursa »
Now You See Me - Review »
'Now You See Me' Trailer »
'Now You See Me' Trailer 2 »
Let's Rob a Bank In a Clip from 'Now You See Me' »