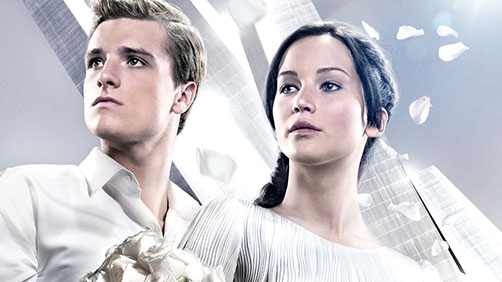 I have a whole lot of saved stuff coming out of San Diego Comic Con (SDCC) over the weekend that I'm still sifting through. I feel about like Dug from Up: "Hey, this thing looks cool, I think I'll post… SQUIRREL!"
This was the first item to catch my attention this morning when I looked at my queue, there will be more!
So this second film in The Hunger Games universe is directed by Francis Lawrence and featured all the same primary cast members, including of course, Jennifer Lawrence as Katniss Everdeen, and Josh Hutcherson as Peeta Mellark. Many of the cast members appeared on stage at SDCC to premiere the trailer. As with the trailers for the first film, this trailer focuses almost entirely on the events that lead up to the Quarter Quell games, only at the very end giving us a glimpse of the arena.
Let me tell you, I already like the look of this film better than the first, and I liked the first film a lot. But the first film took such a somewhat Cinéma Vérité approach, which Director Gary Ross interpreted with always handheld, never steady, bouncy, jerky camera work. It often times did not suit the film well. I didn't mind it during intense moments of the games, but the constancy of it was jarring and annoying. But I digress… This second film directed by Francis Lawrence appears to be much more steady and stable, which should be far less distracting so we can focus on the story, instead of poor filmmaking technique. I could be wrong, you know how trailers are, but that's what it appears like from the trailer.
We'll find out about all this for sure when the film is released on November 22!
Enjoy: