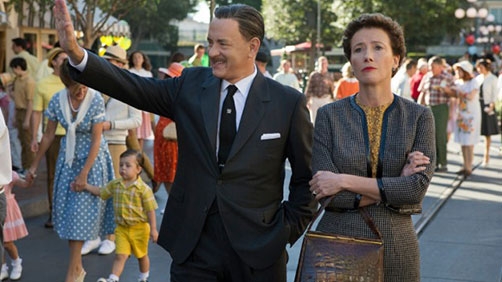 Andrew Sims - Hypable
TIME Magazine has unveiled the first look at Tom Hanks as Walt Disney in the upcoming movie Saving Mr. Banks.

The photo depicts Hanks as the legendary entertainment icon walking alongside P.L. Travers portrayed by Emma Thompson. They are walking down Disneyland's Main Street U.S.A in 1961. The cast filmed on location at the real theme park in Anaheim, California this past November.

P.L. is the author behind the Mary Poppins books, and in Saving Mr. Banks, we watch her life unfold and experience a rocky relationship with Walt because she doesn't want her work to be changed by a movie studio.
Interesting. Also kind of uncanny, he does look a bit like Walt Disney. I have no idea if Emma Thompson looks like this P.L. person because I've never heard of her before.
But I don't really know how excited I am for this film, I just like the looks of Tom Hanks as Walt Disney.