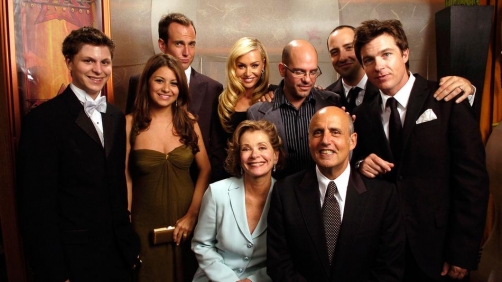 Germain Lussier - /Film
For all you Arrested Development nuts:
Arrested Development season 4 ended on a pretty big cliffhanger. It was a bold move by creator Mitch Hurwitz because there was no guarantee the show, which had been off the air for seven years, would reconnect with audiences. Especially since the entire structure was radically different. But it did. Season 4 of Arrested Development was a big hit for Netflix and everyone wanted to bring it back, as long as Hurwitz had an idea.

The question became, would he make a movie like he had originally said years ago? Or would the show simply come back for another season on Netflix? Though nothing has been decided on legally, Hurwitz has finally made his decision. He's writing an Arrested Development movie right now and hopes to do a fifth season after that.
I can't say I've really been able to get, or get into the whole Arrested Development thing. I've watched a few episodes and it's in my Netflix Queue, but my heart just isn't in it. But one thing is certain: from what I've seen of the show I have to wonder, how on earth do they make that a feature-length film? I don't get it.