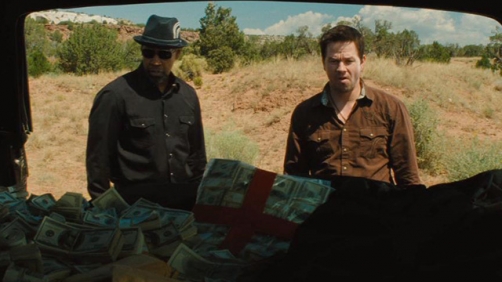 The gun slinging DEA agent and navy man may be up at the top this weekend, but I wouldn't exactly call it a win by any stretch of the imagination. They're still far below budget.
BUT, The Wolverine did come out swinging, fairing better than the little blue elves (or whatever those Smurfs are).
#1 - 2 Guns
Budget: $61 Million
Totals: $27.3 Mil Weekend Gross and Current Total
Weekend 1
I didn't hate this film. In fact it was a satisfying plot in some ways. Some semblance of justice is served, the two guys, one white, one black, one military special ops, one DEA, both with very different methods, really grow together by the end of the film.
[SPOILERS]
What I didn't like was Paula Patton's character and they way it turned out she had turned on Bobby. It was both predictable, and irritating in that we, the audience, wanted to like her as a character but that made it a little hard.
Without going into my full review now, all other things being equal, I would have easily given it 3 stars. However, anytime a film uses nudity in a sexual way, my star rating instantly drops by a full star. And that's for starters. Since Paula Patton shows it off a little with glimpses of upper body nudity, I drop it by a whole star to 2 stars. My reasoning for this is simple, it's not necessary. It's a cheap and unnecessary trick to keep the males in the audience engaged and to convey the sort of relationship two characters on the screen are having. The same information could have been conveyed easily without the nudity, therefore, full star rating drop. It's too bad because I might have otherwise been okay with the film.
It also doesn't make a lot of financial sense either. Though this film would have been rated R without the nudity, one wonders why they chose to make it R rated with R rated film always make less money and this film is in no danger of making any money at this point.
---
#2 — The Wolverine
Budget: $120 Million
Totals: $21.7 Mil Weekend Gross / $95 Mil Domestic / $159 Mil Foreign / $254 Million Worldwide
Weekend 2
Still looking a little weak domestically, but foreign numbers aren't completely terrible. The general rule of thumb I've mentioned before, at least according to Laremy Legel over at Film.com is that a film needs to make about 2.5 times it's production budget to be considered a success and make everyone involved in the production some money. You've got to factor in ticket sales, marketing and more. For this film, that number is $300 Million, and with another strong week on the foreign side this film just might get there.
It's a fantastic film, all things considered, and I hope it does get there.
---
#3 — The Smurfs 2
Budget: $80.2 Million
Totals: $18.2 Mil Weekend Gross / $27.7 Mil Domestic / $52.5 Mil Foreign / $80.2 Million Worldwide
Weekend 1
I really don't understand the appeal of this film. It looks terrible. Apparently most of the domestic audience feels the same way, though it did slightly better with foreign numbers. Still, this film has an uphill battle if it wants to make any money, and I don't see it happening.
---
#4 — The Conjuring
Budget: $20 Million
Totals: $13.6 MilWeekend Gross / $108.6 Mil Domestic / $28.6 Mil Foreign / $137.2 Million Worldwide
Weekend 3
Man, if there's a film I don't get doing so well, it's this one. But it has now raked in almost 7 times the production budget. I think this must put a smile on a lot of faced over at Warner Bros.
---
#5 — Despicable Me 2
Budget: $76 Million
Totals: $10.4 Mil Weekend Gross / $326.6 Million Domestic / $387 Million Foreign / $713.6 Million Worldwide
Weekend 5
Yeah, you can do a double take on that worldwide total and then give a low whistle. That's some serious cash. Since I'm on the theme of the amount over the production budget, that is 9.3 times the amount of the production budget. I've already pointed out last week that this film is now Universal's most profitable film of all time. It's kind of sad on the one hand, but I am happy for them or whatever. They've got their animated franchise now and we will certain see a Despicable Me 3 at this point. And I can say that as long as they keep getting better, I'm okay with it. This film is certainly better than it's predecessor.
---
#6 — Grown Ups 2
Budget: $80 Million
Totals: $8.1 Mil Weekend Gross / $116.4 Mil Domestic / $21.5 Million Foreign / $37.9 Million Worldwide
Weekend 3
Does someone want to explain to me why this film is still on the charts (or how it even got there in the first place)? This film looks vile.
---
#7 — Turbo
Budget: $76 Million
Totals: $6.4 Mil Weekend Gross / $69.4 Mil Domestic / $55.3 Mil Foreign / $124.7 Million Worldwide
Weekend 3
I can't imagine what Dreamworks was thinking on the timing of this release. But whatever. It's a flop and it has certainly failed to capture my interest. I still have not seen it… and, oh goodness look at my schedule I don't think there's time…
People loved Monsters University ($613.4 Million Worldwide), and Despicable Me 2 ($713.6 Million Worldwide), but I think now this film is both facing animated feature film fatigue at the box office, and it doesn't look great. Not a winning combination.
---
#8 — RED 2
Budget: $84 Million
Totals: $5.6 Million Weekend Gross / $45.1 Mil Domestic / $33.4 Mil Foreign / $78.5 Million Worldwide
Weekend 3
This may be the sadest thing about this week's box office report. This film is easily the best film in the top eight this week with the exception of The Wolverine, and to tell you the truth I'm not sure which I would put above the other actually. And yet we still haven't pushed this thing at least up to its production budget. Sad.
---
Other things to notes:
Pacific Rim is down in the #10 spot and is still just shy of $300 Million worldwide at $293.3 Million. But even so that would only be 1.5 times production budget. That's due to such an hugely inflated budget (there's no excuse for it, frankly, in my opinion.
R.I.P.D is gone, baby, gone. Oh well.