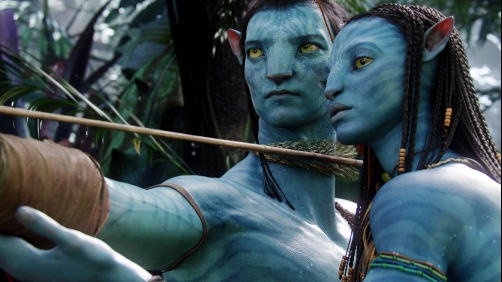 Mike Fleming, Jr. - Deadline Hollywood
The planned two sequels to James Cameron's highly successful 2009 film Avatar have now become three sequels, announces Deadline Hollywood. The three sequels will be shot at the same time, with Avatar 2 set for release in December 2016.
Commented Cameron: "Building upon the world we created with Avatar has been a rare and incredibly rewarding experience. In writing the new films, I've come to realize that Avatar's world, story and characters have become even richer than I anticipated, and it became apparent that two films would not be enough to capture everything I wanted to put on screen. And to help me continue to expand this universe, I'm pleased to bring aboard Amanda, Rick, Shane and Josh — all writers I've long admired –­ to join me in completing the films screenplays."
While I enjoyed Avatar well enough and wouldn't mind maybe one sequel, throwing three at us three years in a row seems like overkill to me. Honestly, the first film could best be described as "Pocahontas (or Dancing with Wolves) in Space," as the plot was pretty formulaic. The visuals are certainly something to marvel at, but three movies with lots of stuff to look at and no story or character substance does not sound like something I want to see.
However, it's worth noting that, unlike with the first film, Cameron is not tackling the scripts to the sequels alone:
Cameron has set War Of The Worlds scribe Josh Friedman to write one film; Rise Of Planet Of The Apes' Rick Jaffa & Amanda Silver to write another; with the third to be written by Shane Salerno, who wrote and directed the upcoming documentary Salinger and who previously worked with Cameron on a remake of Fantastic Voyage at Fox. The writers will collaborate with Cameron separately and co-write three separate movies with him.
Whether or not the aid of these additional screenwriters will improve the quality of the sequels is up in the air, but I'm at least glad to see that Cameron is sort of stepping to the side and letting people who are better at writing scripts do it for him.