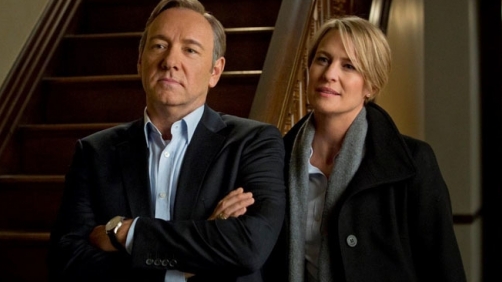 Kevin Jagernauth - The Playlist
The Playlist has learned that while Fincher is still executive producing the show, he wasn't able to get behind the camera for the next round and direct any episode (you'll remember we heard this was likely going to be the case anyhow a few months ago). And while that may be a bummer, two of the stars have. Both Kevin Spacey and Robin Wright have helmed episodes of "House Of Cards." It will be Spacey's first venture calling the shots for the small screen, though he has two features under his belt: "Albino Alligator" and "Beyond The Sea." As for Wright, it's her first time ever directing, though she no doubt had a good supportive team around her.
I can't explain why exactly, but I really love it when the actors get behind the camera too. I think it's because they have a good handle on the character interactions and how the show works and so they can really bring something to the show that not a lot of other directors can. As it is the running joke here that everything goes back to Star Trek, I will indeed liken it to Star Trek, in which some of the best movies, and best episodes were directed by members of the cast.
And of course, I'm looking forward to season 2 of House of Cards for more than one reason. 1). the first season was pretty excellent, and 2). I really love the strategy of making shows available on demand to the consumer.