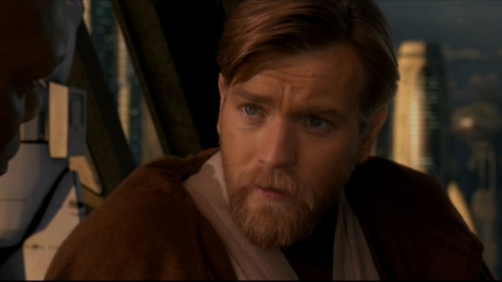 In a short clip from Digital Spy, Ewan McGregor discusses the idea of returning to Star Wars as Obi-Wan Kenobi. Of course the thing is that any time we've seen force-ghost Obi-Wan, he was played by Sir Alec Guinness who, when he appeared as Obi-Wan, was much older than Ewan McGregor. Now of course, there is that controversial swithceroo in the 2004 DVD version of the original trilogy in which Hayden Christensen replaces the pervious actor as the Anakin Skywalker force ghost so maybe they think they can explain a differing appearance by saying that force ghosts can take on any appearance they want to of their former selves.
Whatever. Ewan McGregor's Obi-Wan Kenobi was truly one of the better aspects of the prequel trilogy. I never had any problem with him as Obi-Wan, or his character in general in the prequels. The more he was in it or involved, the better the prequel was.
There's also a rumor floating around that Ewan McGregor would like to do a stand-alone Obi-Wan Kenobi film. I wouldn't mind that, but I'm not at all sure how that would work. I don't know what part of his life the film could focus on. Obi-Wan was a teenager when we first saw him — a Jedi apprentice to Qui-Gon Jinn. We more or less followed him through all the interesting parts of his life from there. What part of his life is left to tell? The part where he hangs out as a hermit on Tatooine for 20 years? Let's just say that's not an option. What do you guys think?
Here's the short clip: