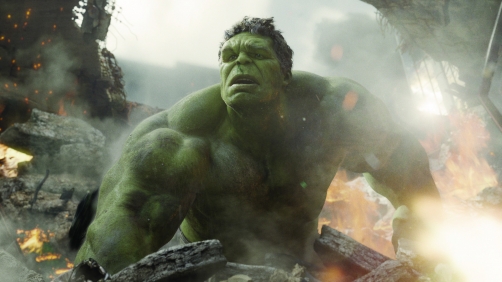 Angie Han - /Film
Kevin Feige may be done making big announcements until 2014, but that doesn't mean he can't drop a few hints between now and then. The Marvel Studios head reportedly has things planned out (albeit tentatively) through about 2021, and during an interview at D23 he offered some clues about what he has in store.

Among other things, Feige promises we'll see more of the Hulk and Hawkeye.
All good as far as I'm concerned! I like both characters from The Avengers very much. I also loved the The Incredible Hulk from 2008 staring Edward Norton, but I was one of the few apparently. And it would be weird, after being played by Mark Ruffalo, to bring back Norton, even though the 2008 movie is part of the current cannon of the Marvel Universe. And Ruffalo did a great version of Bruce Banner/The Hulk, I had no complaints. My only complaints were simply because of the recasting. I'm against recasting in general, it's annoying. But I say that this point, we move forward with Ruffalo, and I for one, would love to see a good Hulk film with Ruffalo!
And you know what, I wouldn't mind seeing a film that featured Hawkeye prominently. Maybe such a film would feature Hawkeye and Black Widow? In any event, fun stuff coming up in the Marvel Universe.